Photos – Roslyn Neave and Kenneth Braddick
There are some really special dressage performances that stay with you, tucked away inside your head, and I well remember that balmy night in Jerez at the 2002 WEG, and Debbie McDonald and Brentina's freestyle. The music was a medley of American show tunes, the riding like the music, so light and breezy, the huge chestnut mare so in synch with her tiny rider. It took truly appalling, wildly political, judging to deny them the medal they richly deserved…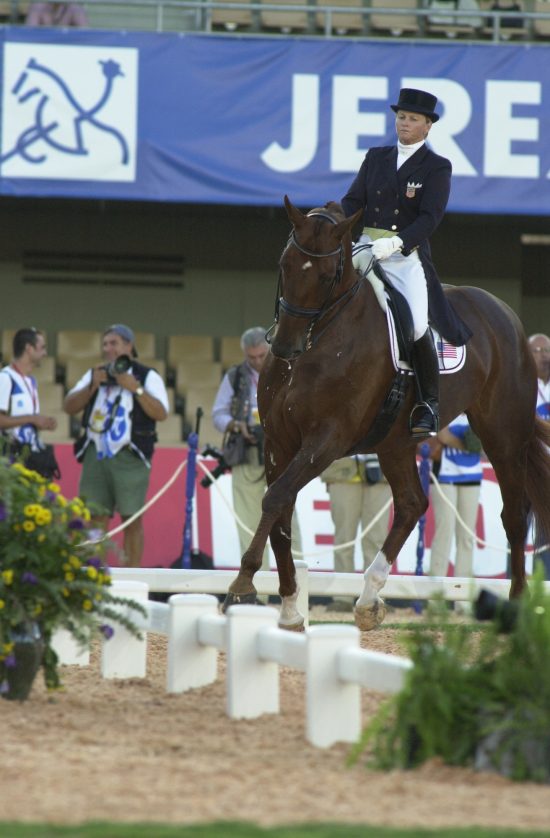 Since then Debbie has established herself as one of America's top dressage coaches, at the recent United States Championships, the stars were three of Debbie's team. Kasey Perry-Glass and Dublet won the overall championship, Adrienne Lyle and Salvino won the freestyle, while the third placegetter Olivia LaGoy-Weltz and Lonoir, took out the Grand Prix Special.
Adrienne told Kenneth Braddick of dressage-news.com, that since the top three were all friends and working with Debbie, the results were 'all in the family'. With Debbie off in Queensland, the threesome helped each other in a run up, although Debbie made it back in time to work-in her pupils at the Championship.
Oh yes, and there is a pretty neat fourth pupil, Laura Graves, who sat out the championships as she aims the wonderful Verdades at the next WEG in Tryon, North Carolina…
I jumped at the opportunity to travel north to the Queensland Dressage Festival where Debbie was to give a master class, and luckily Debbie found time on the day before the master class to sit down for a chat…
I was thinking about it on my way up to Caboolture – in a way America is very similar to Australia, but in other ways, very different, some of the best riders in Europe came to America, you had Richard Watjen teaching in the 50s, and your riders don't seem to have felt the need to go and live in Europe…
"We struggled a lot earlier, finding a way for our sport to survive, because we don't have a lot of corporate sponsorship, I think you probably have the same issues here. Showjumping didn't have that problem, it has always been something people want to watch, it's easy to understand. Dressage has that part where people don't really get it, and they don't know how they would judge it, but they still appreciate the beauty. California is struggling now, that's where I used to ride, they struggle with facilities, they struggle with footing – and sponsorship."
"On the other hand we've had Mark Belissimo come into Florida and build this world of dressage, the prize money is amazing, and now the Europeans are coming over to compete, they have great sponsorship and it is a huge production. So now everybody is flocking to the East Coast for it."
But you have never had the situation where riders felt they had to go to Europe… I think Lisa Wilcox is the only exception…
"Correct, the majority of us still feel that we don't have to actually train there because we do have some incredibly good trainers in the States now, but we still need to go to the bigger shows with our top riders – Rotterdam, Aachen – and we are sending quite a few riders to the Nations Cups – Compeigne, Hickstead – so that we come head-to-head with the European riders."
Do you have good funding for that?
"It depends. If it is the A Team, they are usually funded pretty well, but if you are just an individual that might make it to one of the Nations Cups, it's not fully funded. That's where we struggle again for people coming in and helping to get the riders to the places they need to be."
Turning to your evolution as a rider, I think you started as a jumping rider…
"I did, and moved into dressage later in my life – I didn't make it to the Olympic Games until I was fifty. I would say it's one of the only sports where you could be thinking that. I rode on two Olympics, and I was fortunate enough to be the first US rider to win a World Cup Final – and now I have had the wonderful experience of coaching three riders that have gone to the Olympics. It's been quite a lovely experience to feel, okay, I've retired from this part of my life but now I want to get other riders to enjoy what I was enjoying. That's been a fun experience for me."
But it is a bit different saying you were a jumping rider in the States, because jumping there is the tradition of de Nemethy, Steinkraus, Morris, it's a pretty good basis in equitation…
"Absolutely. I think having a little showjumping riding in your background is certainly an asset, knowing what a horse feels like when you set it up for a jump, it certainly doesn't hurt you as a dressage rider."
When you turned your emphasis to dressage, who did you turn to for information?
"My very first instructor was Hilda Gurney because she was in our country, the Grand Dame of Dressage. I started a little with her – mind you I was living in Idaho, so it wasn't the easiest place to get help. Then Steffen Peters for a while, Lilo Fore for a little bit and then the biggest part of my coaching was in Germany with Klaus Balkenhol. I've had some great people that have helped me coaching-wise."
Klaus' philosophy and his methods are wonderfully simple…
"What I love about Klaus is that he knows exactly when to back off, when he knows a horse has maybe had enough for the day. He never over-does a horse. I've never seen a man walk into a barn like he does, and every single horse nickers to him, because he loves his horses and he spends time with them."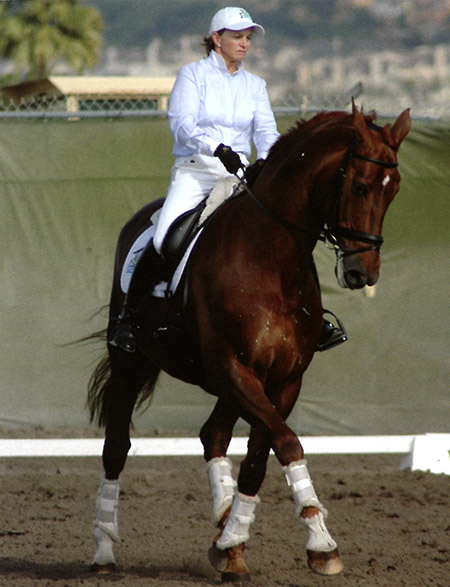 Training with Klaus…
"He passed that on to me very strongly, it's important to know your horse well and to be fair, yet firm enough and reactive, so you can be a person that doesn't have to ride with strength. I'm only five foot and I rode some big horses in my life and it is a matter of making sure you have that right sensitivity and reaction, then it doesn't take the strength."
Perhaps in part because of Klaus' influence, the rolkur thing doesn't seem to have got off the ground in the United States…
"It didn't. There were a few people who went over and worked in the Dutch system, maybe, but not to the extent that we knew rolkur when it was 'oh my gosh, this is just not okay!' I don't think rolkur ever really hit the States, I don't think that's a way of training that the riders in the States wanted to go."
next meet Debbie's most famous pupil
Your top riders all seem to have a beautiful position, but dear me, they can't be a lot better than Laura's…
"Everybody kind of has their own positioning, and for Laura, being as she is just so petite on this big horse – she's a beautiful girl anyway and I think when she sits up there straight and she's on a horse like that, how could you not look beautiful? They both are very special."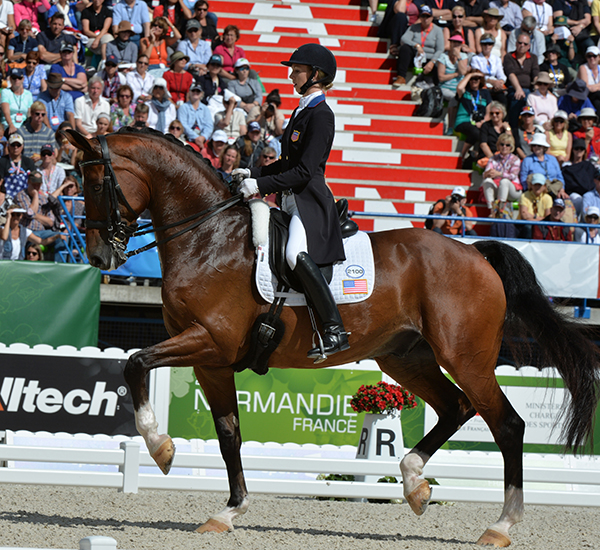 Star pupil – Laura and Verdades…
It is not an easy horse…
"Oh my gosh no. He's hot, he's sensitive, he's very spooky. It is just a matter of channeling the energy in the right way and she knows that better than anyone – she's had him since he was a foal. It hasn't all been a story of success. It's just in the last three or four years that things have started to move in the direction it's gone now."
Two crosses of Hackney – that's smoking hot…
"Yeah – Debbie is giggling thinking about the horse – he's very much of a cart horse, when you look at him, you think that's kind of what he is, but then he moves and you go, oh my gosh! It's crazy, it's just crazy to watch."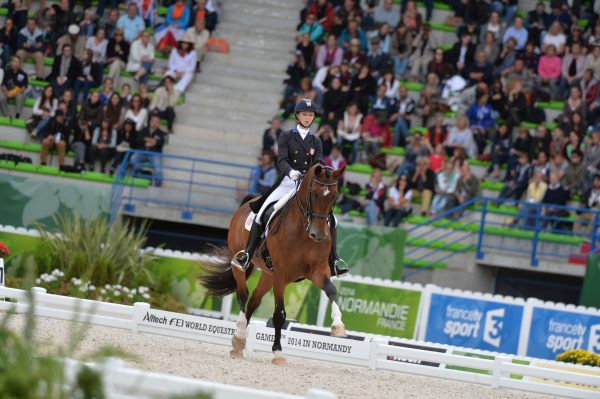 But that is a nice story in that she didn't have mega-rich backing…
"Not at all, and to be honest, unless she had somebody like Betsy Juliano who came in and helped fund her coaching and training, it would have been very difficult for Laura to have done what she has done, on her own. She and her partner – to be married, I hope, very soon – they've just bought a place and they are trying to build it up and put a barn on it, they are doing a lot of their own work, physical work. She's not one of those rich kids that has a lot of money behind her, she's very careful how she spends it, and she's very careful how she uses her horse. She knows we need him for a few more years, so she is going to preserve him like she should."
For a while your team was bolstered with German imports – Günter (Seidel) and Steffen (Peters) – but now you seem to be producing a whole group of fine young home grown American riders…
"We really do have beautiful riders. I've seen several riders too, here in Australia, that are beautiful riders, but you've got to have the right horse under you and that's where I think a lot of countries struggle. We struggle with depth. We look at our top riders and they don't have another horse coming up right now, that's concerning. If you don't have a lot of money, depth is hard to find. Depth is hard to find anywhere, buying horses today, is not so easy."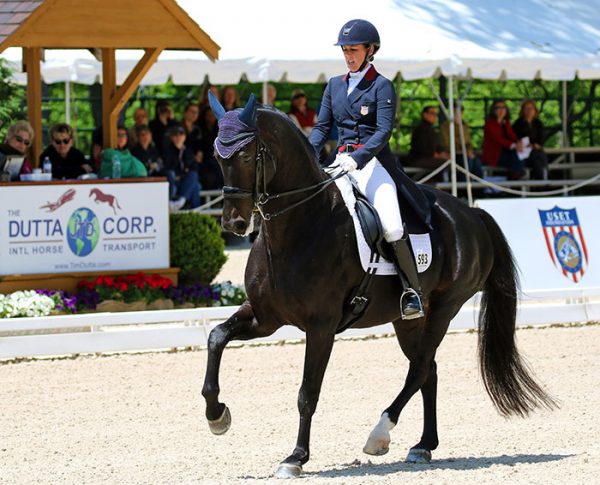 One of the beautiful new riders – 2017 US Champ, Kasey Perry-Glass and Dublet
(Photo Kenneth Braddick)
"My story is that I would rather buy young and develop it and know what you have because even the young ones are expensive today. Going and buying someone else's ride is not always successful. You are buying someone else's problems, or other issues you are not aware of. At least if you have trained it for the start, you know what you have."
Warmbloods have been bred in the United States for a long time, and a lot of money has been spent in Europe buying good stock, yet surprisingly few of your top horses are home grown…
"I think a lot of that has to do with the hands the young horses get into. Anyone who has bred horses knows that you can breed a thousand horses and you are lucky to get one Olympic calibre horse. It's a very expensive journey, not one that breeders necessarily make a lot of money on, and most of our breeders are not incredibly wealthy people. You have that situation of you have a very special young horse, my hope is they start helping these horses get to our top riders so that we can show that we have some very lovely well-bred horses in our country. But you are right, I would love to see more American bred horses coming out into our limelight."
You were saying how it was good that money had come into dressage at Wellington, but do you look at the sport of showjumping and worry what happens when a discipline is dominated by money…
"I think we are still a long way from that, I just don't know that dressage will ever be comparable to what's happening in the showjumping world because most of those young showjumping riders come from very wealthy families and those kids never lack a good mount, those kids start on ponies, they come up through the system, get passed on to the great top jumping horses and they learn how to ride by the seat of their pants. And there is something to be said for that."
"Our dressage riders, because of the size of our country – like yours – find it hard to get good coaching, good eyes on the ground. For me, if you are not in a good system, and stay in a good system, then you can't be expected to be one of the top riders. That's how it happens in Germany. They all start on ponies, they all start off in a program… A lot of our riders start a bit later in life, we are not a country of huge depth of pony riders, we are growing, but our pony division really hasn't gone anywhere yet, but our young riders and youth programs are getting stronger and bigger all the time, and that's where, in maybe ten or fifteen years, we are going to have a much more substantial educated group of youngsters coming into the sport."
But that involves another level of coaching, do you have schemes in place to produce good eyes on the ground?
"That's what we are working on. As the developing coach, we've started a bit of a new program. We watch the riders that are doing well, even if we can't see them live, watching a video, then we can decide, okay this one should be invited to participate in the developing program. We invite them – they get an opportunity to work with a sports psychologist, they get to work with a physio. They have a session with a judge… it's a program that gives them a lot of information on what they need to do for the future to keep themselves at that level. Then we monitor their trajectory – if they were up the top, then we see them sliding down, we have to have a frank conversation with them. Why is this going south? Why isn't it going uphill?"
Do you have a formal system of coaching accreditation that recognizes higher skill levels?
"We are a country where you can still hang a shingle, trainer / coach available, and still have a very substantial business because of the massive number of people wanting tuition. There are a number of young riders that are becoming coaches, and yes, I think it's fine to maybe help a little amateur lady or a beginner, but they certainly don't have the knowledge of someone who has done this for years. We do have a program for coaching certification, and we always try to stress it, because I think it proves that you've got the quality and qualifications to be schooling a Grand Prix horse. Just because you rode Grand Prix, how do you teach it? Teaching is very different from just riding."
And some of the best riders are the worst teachers…
"Absolutely. I would love to see more of the trainers going through the trainers' certification, for sure."
Do you think experience is more important than having great theory?
"There's no doubt about it, I think experience is vital because you can have all the theory in the world, and have read all the books in the world, but that doesn't give you the feeling of what it takes to make it happen – and no two horses learn the same way. You have to have enough experience to know that it doesn't have to be done out of straight strength and roughness. It's a matter of communication and I think experience is really where we all get that."
---
The one she should have won – Jerez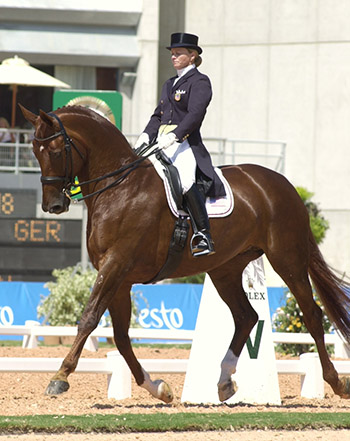 Back in October 2002, my report read: "Brentina and Debbie McDonald, straight into double pirouette, a series of ones and into another double, this lady is going for it. Great jazzy, very American score, It Ain't Necessarily So, works well for the walk, and the sax lead is superb. It is a relentless test, taking the risks, keeping the movements coming, and what a horse this Hanoverian mare is! Fascinating Rhythm is just right for the passage / piaffe, Who Could Ask For Anything More? for the final trip down the centre – who indeed? This could be the winner. 82.7, into second (behind Ulla Salzgeber). Yeah, well may the crowd jeer and catcall…"
The final result? "Gold for Farbenfroh, silver for Beauvalais, bronze for Rusty, and the best horse Brentina misses on a medal. Yuck."
---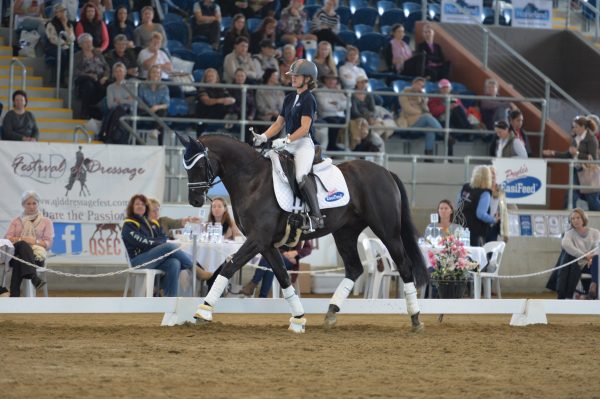 The first rider listed for the master class was Nicole Tough was riding a new acquisition, the five-year-old Ferragamo. It was nice to hear that Nicole had included in her brief to the announcer, a tribute to one of her coaches, the late, great, Vince Corvi. Nicole was looking forward to the chance to work with one of the world's best…
"I've not had an opportunity to work with Debbie before. I've watched a lot on You-tube and online. I loved her World Cup Freestyle ride on Brentina – I loved that."
"For me, what is important, is she is a small rider. Most successful dressage riders are tall, and I'm five foot three…. and a little bit, and she's smaller, and she achieved what she did riding that huge mare. I was thinking, if she can do it, then I've got no excuse. She's obviously not using her muscles, or her strength because she is tiny. For me it was always, okay, if she can do it, I can do it."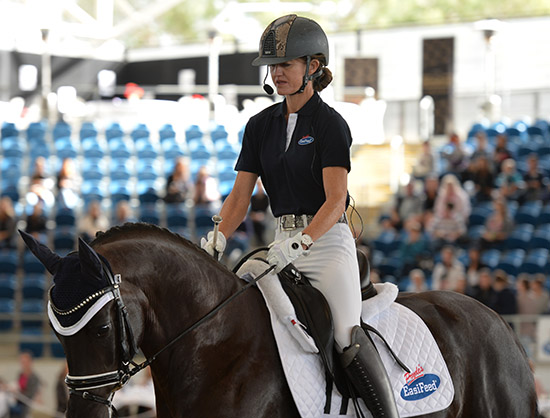 Now you have ridden in a couple of sessions with her to prepare for the master class, what's the take home?
"She re-adjusted my sense of straightness – my perception of straightness easily goes astray, even though I have a lesson every week, my sense of straightness can be a worry…"
Are we talking horse straight or rider straight?
"Both, because when the horse is not quite traveling in alignment, then quite often the rider isn't either. Or vice versa. That has definitely been something to take home. And also for me, sometimes she was saying, just relax, just soften – I wasn't doing anything, but I still had tension. I still had tension in my body and my elbows, and she said, just soften and feel it. It was a beautiful feeling – part of that tension is the pressure and stress of riding in front of someone like Debbie – and it was great to let go and be involved in the moment, feeling the moment."
"Despite the fact that she is so small and probably not wanting a lot of muscle in her hand, she said, don't have them too light. If they are too light, a mistake is close. For me it was about getting a bit more contact and having the horse a bit more secure in my hand. It made a very big difference to my young horse."
"I had to make a very difficult decision at the end of last year to sell my Grand Prix horse, First Time. I decided to do that because I thought, I've still got ten more years in the sport, he was ten, and I thought, I've got nothing coming underneath him, so I made the decision to sell him."
"I went to Europe and wasn't as patient as I might have been. We were there for two weeks, and I wasn't prepared to come home without a horse. My husband and I ended up buying two young horses, a three-year-old, and a five-year-old. At this clinic, I've got the five-year-old – Ferragamo – and he's by Fürstenball out of a Sir Donnerhall mare."
"I've taken him to two competitions at Preliminary level, and he's gone exceptionally well, and coped with the Australian open-ness. He coped then, and he's coped exceptionally well at this venue for the clinic. Tomorrow will be the big test, going into a stadium full of people, but I think he is up for it."
Nicole was right and not surprisingly, the black gelding was a bit startled to find himself in the middle of all those people.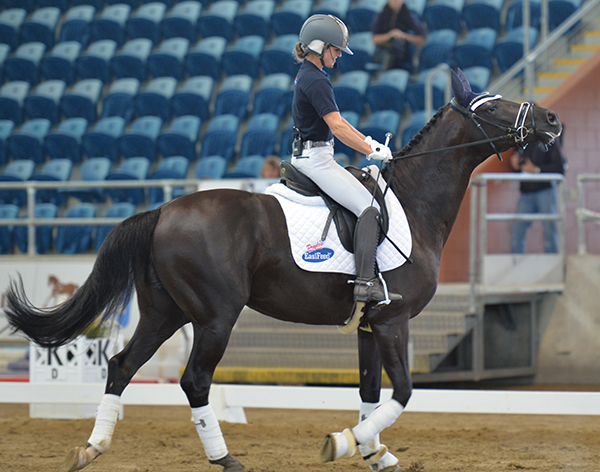 Debbie was re-assuring: "The atmosphere is over-whelming for a young horse, so the most important things are rhythm and relaxation, there's no hurry, take your time on a circle and think, I want swing and searching contact."
Debbie also had a word of warning for riders intent of taking a young horse through the stages to FEI: "With young horses, unless you are experienced, seek professional help. With young horses, you train them at their own speed."
And one of the first issues – control and its big brother, over-control, is already out there:
"That's good Nicole, let him look a bit, try not to over-control the contact."
But at the same time, don't compromise at the other end – be careful not to take off the leg: "When you get on young horses they have lots of energy and they learn to teach us to keep our leg off them – use the circle to get him to accept your leg."
"On the circle, the more he stretches, the more he is coming to the contact. The last thing you want to do is make him afraid of the contact. Use a little position – a slight baby leg yield in the downwards transitions, to get him into the contact. And DON'T over control – on young horses we always feel we are losing control, but we have to learn to trust the horse."
"He is so forward thinking that you don't need to drive, make a little circle, and leg yield on the open side. When he feels insecure, talk to him, don't over-ride, don't pull him down – go with him. When you pull on the inside rein with a young horse, they just keep running in the other direction. You don't need hands so much, if you can train the horse to react to your upper thigh. Even if he wants to look, follow with your hands, talk, good job buddy, see there is no restriction."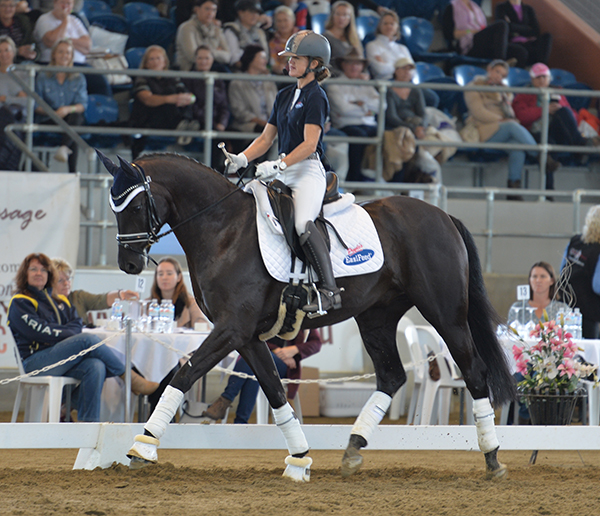 "Now change to the other side, which is harder for him, and when he wants to look up tell him not to worry, good boy. I have never worked with a horse that doesn't respond to reward."
Even in a slightly extreme situation, Debbie wanted Nicole to hang in there:
"If he comes way above and canters, don't pull him down. Canter, a little outside rein, help him to understand there's nothing to worry about. So important to keep him thinking forward even in those moments, his job is to get to the other end of the arena."
Up goes the gelding's head, Nic goes to take a pull, thinks better of it, and gives…
"Good, you caught yourself there. I love it."
"If he puts his head up, keep riding, don't pull down, he'll decide it's not comfy up there…"
Dear me where have I heard that a couple of hundred times before? Debbie started out as a jumping rider, and I guess she encountered the Gospel according to George H. Morris a few times before she hit the dressage arena. Again:
"Forward walk, even if he puts his head up, keep going until he relaxes with his head low. Don't dictate where he has to carry his head, us dressage riders are all control freaks…"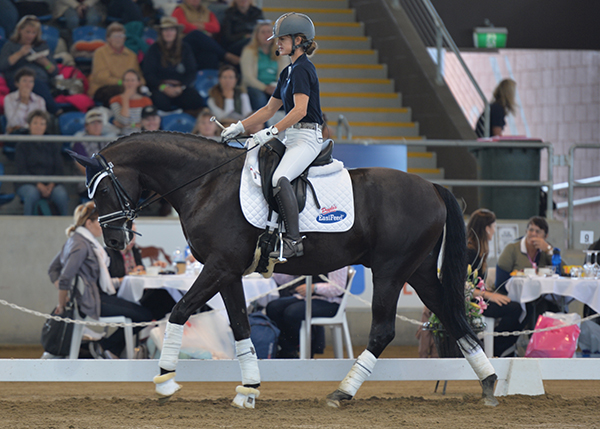 And another injunction – get out of the arena when you can, hit the trails.
"With young horses it can't be all work / drill, I love to take them out on the trails. Make it fun, be creative, make a happy life for a happy horse."
"I like the frame now, please don't think you need it rounder, this is a young horse. Just go with him. He'll come back. It is really hard not to want to yank the horse's head, but it is so important not to ride from the front. Ride forward and open it up, let him relax and get more comfortable. And you relax – relax your upper body, the horses feel that tension."
The horse was invited to go long and low, but: "some horses want to rip the reins, it has to be with politeness."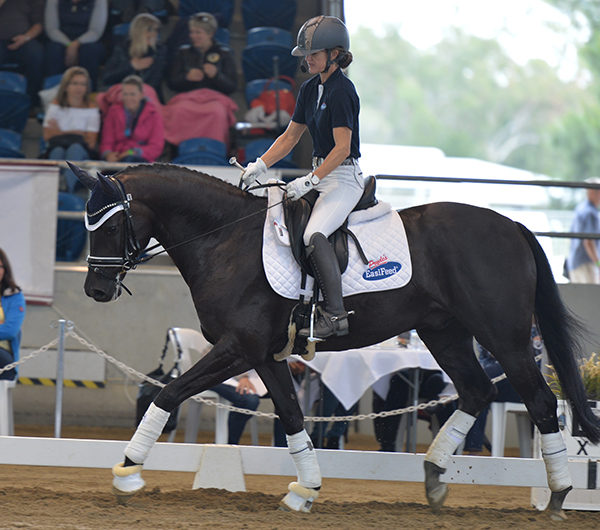 With the horse back up and working Nicole was getting a little shoulder fore, go straight, shoulder fore… "It makes me want to smile, the horse is starting to understand, he wants to show off a little," Debbie enthuses.
And you know all those 'groan prix' horses you see in Clinics that can stumble through a parody of the movements, even if they have lost their walk, shortened their trot to a shuffle, and added an extra beat to the canter, no way when it's Debbie's way:
"Teach the horses to do the movements without tension, when the horse gives the movement, reward. Never jeopardize the quality for the movement…"
I am reminded of one of Debbie's mentors, Steffen Peters, who put it slightly differently, never sacrifice the rhythm for the expression. 
"After you have done a little of that baby lateral work, ask for a lengthening, the horse should never lose sight of his job, and that is to get to the other end of the ring. Our job is to sit up and look pretty. Pet him and make him know he is super special, confirm to him that he is doing right."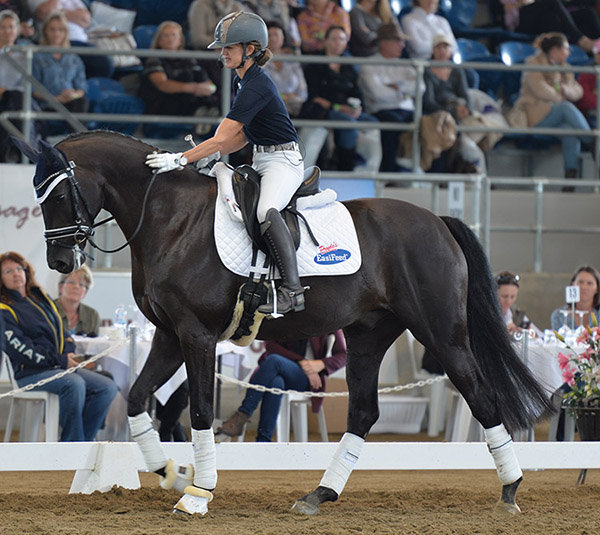 "You set the standards for what your horse will do later, when they are young. When they do get to Grand Prix, every time the horse comes into the ring and looks around, the more they internalize, and get distracted and anxious. If you don't want that to happen, right from the start with your young horse, keep them with you, keep their brain with you."
Nicole confesses: "I did want to grab and control, but when I did what you said, the idea went away."
At that point, Debbie points out that the 45 minutes allocated is too much time for a young horse. "End now on a positive. I like it when we have little issues and can work through them."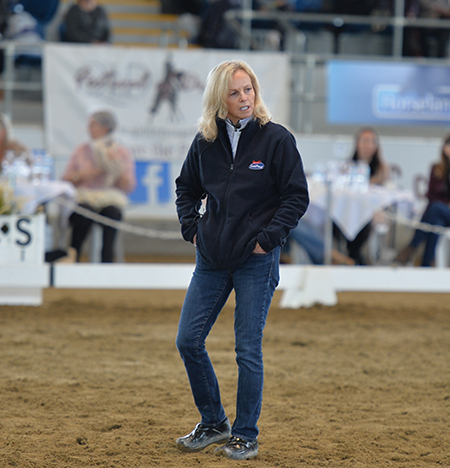 ---
The next session was with another well-known Queensland FEI rider, Jenny Gerhke, and she too was showing off a new pony, the six-year-old, Senator. Before the class, I asked her what it had been like working with the American maestro…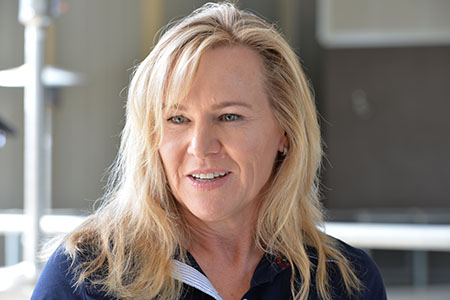 "I've never trained with Debbie before, just followed her over many years, I've always been a fan, so I was pretty quick to put my hand up to get some sessions with her. I'm always surprised that riders want to go to the good riders for training – who are not necessarily good coaches – rather than the good coaches. Debbie was a great rider, but clearly she is a coach too, she coaches Laura Graves and Laura just blew me away at the WEG in Caen and continues to get better since then."
"I was keen to see how she taught and it has been fantastic."
Is there anything different about her teaching?
"No. I've had a lot of lessons from great people over the years and it would be very disheartening if someone came along and said, you are completely on the wrong track and you don't know what you are doing. I've really taken away a lot of confidence that I am not on the wrong track and that we are heading in the right way."
"Her coaching is really focused and positive and quite succinct. I watched nearly all her lessons, and she said to a group of us afterwards, that this was a group of really nice horses and capable riders and what she thought was missing here, was just more constant eyes on the ground."
"I remember years ago, Kyra Kyklund said 'it is our job to make the horses adjustable and the judges to tell us how we want them adjusted.' My horse is adjustable, and to have someone with her eye on the ground, fine tuning how much angle and how much forward and how much half halt, how much response from the half halt, was really fabulous. No great light bulb moments, but really great guidance."
"I watched her really change a few riders and all of the horses got better. It was a great experience."
That really is our problem in Australia – the lack of properly qualified trainers…
"But I think there are a lot of good trainers, but I think what we lack is riding with someone good watching us every day. Even if they are only throwing a word at you. I think Brett (Parbery) and what his group down on the Southern Highlands are doing is a way – it's what we try to do a bit up here, riding together and getting a bit of feedback. It takes a while for all the riders to thaw out, but we've just got to get better and riding together really helps. Having eyes on the ground that you can trust that you are getting the right information, is important."
The horse that you are riding in the Master class?
"He's a Westfalien, by Steinberg out of a Mon Cherie mare. He's nearly seven. A dear friend of mine, Rose Deo bought him for me to ride in February last year, and he arrived in June. I've had him at home for nearly a year."
"I'm at the point where I didn't feel I needed any more ribbons at Novice, so I didn't take him out until I felt he was where I wanted to be. I have taken him to some clinics with Leonie Bramall – I did a couple of Novice tests on him for 74, 75 scores."
"He's a really sensitive horse, so apart from training with Debbie, one reason for bringing him here to the Festival was the opportunity to get him out and get him used to this sort of atmosphere. He's such a willing, trying horse, he's a delight to ride. I'm a lucky girl, he's the best one I've sat on."
Jenny and Senator were into that that scary big arena for their lesson. The second master class is sub-titled: Using Lateral world to Develop Collection, but Debbie stresses that we should only expect the beginnings of collection with such a youngster:
'He's just a six-year-old, collection is a huge ask, we should be thinking about developing collection."
"This horse gets a little tight in the back, you can see it better in the canter – and this is an important point in the horse's life to change that through exercises."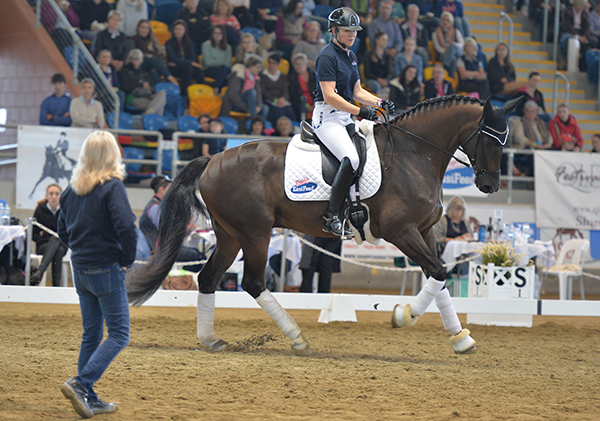 The exercise is canter, trot, stretch: "Stretch up not back, use a little inner thigh. When you collect, the hind legs get short and choppy, when you feel that, don't stay there. It is important that he learns he has to canter long in collection. At the moment the strength is not quite there in canter to sustain a big stride. We want a ground covering canter, not running."
"Pick him up now and ride a little forward / back. Some leg yield, supple up both sides, but never steep leg yields, light leg into the outside rein."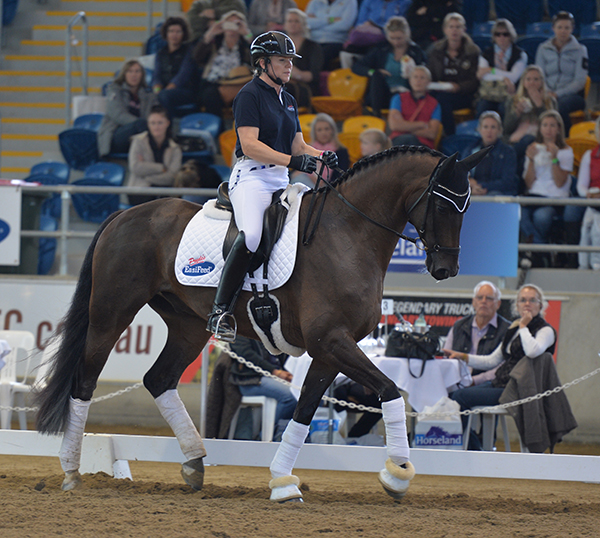 "Ride a little haunches in, get him to reach under with the inside leg. Pay attention the ears are level, never risk more angle or bend if you lose that. You can see he's a little weak, his hind legs are a touch wide. Shoulder in is going to help that, it will strengthen the hind legs and help the canter too."
"Give the horse a change to walk in between the exercises, he needs the oxygen to get to his muscles."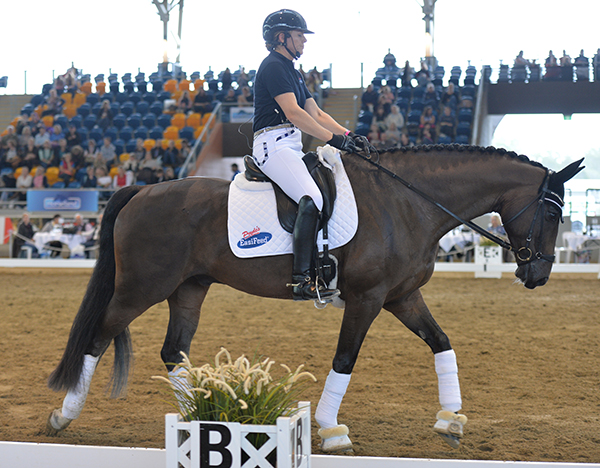 "Leg yield helps the horse become supple in the back, the neck and the shoulders. You need to find a zone where he swings, never lose that quality of the trot to ride the movement."
"How many riders have felt that because the horse is hot, they can't put leg on? Then you end up with a horse that is hot, but also behind the leg."
"On the short end, show off the trot, that's where three judges are going to see the trot. Now back to walk, and when he is walking tight, let him go. He gets a little curled back, guide with the contact so he pulls you out in the walk."
Back into trot and Debbie wants a little position:
"A little shoulder fore until you feel you don't need much inside rein, just your upper thigh."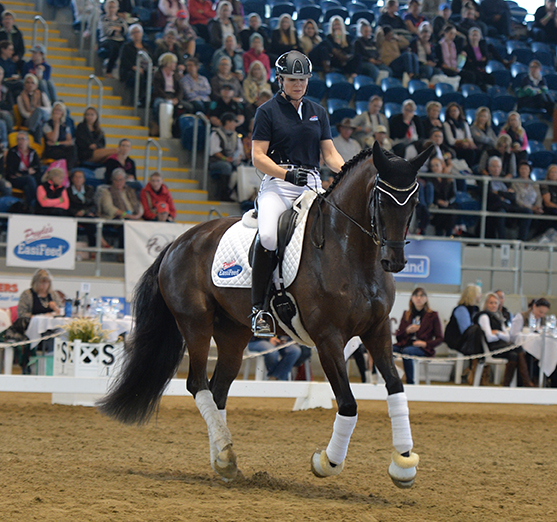 "Come on the circle round me, play haunches in, out to shoulder fore – strictly off your legs. Keep his hind legs always under him after the haunches in. Even in a collected moment, you should feel you could give the rein and remain collected. The biggest thing to realise is that you don't need your hand. Shoulder in circle, then quarters in, then give your hands."
"A horse like this, in the wrong hands, could be trained too fast and ruined. He is very forward and sometimes with a very forward horse, we think we don't need our legs – but when you get to tempi changes, you will discover that you do need legs. On the canter walk transition, here you feel a little vulnerable, use a little walk shoulder fore, to get him listening to your inside leg."
Suddenly the black gelding loosens and lets go his back in the canter: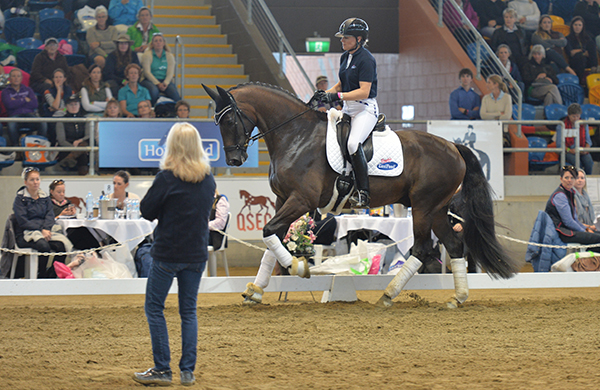 "This is your base – a little haunches in, a little shoulder fore, then he doesn't need you – get out of his way!"
"Now try a flying change…"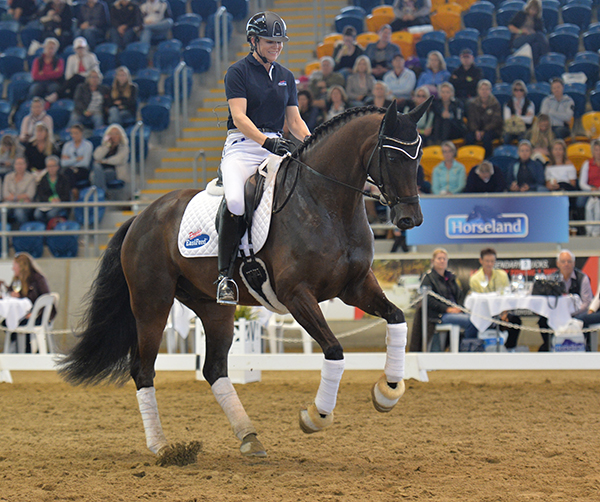 The horse is surprised and misses the change.
"He was taken by surprise then. Use a little warning leg to let him know you are going to do something. Canter, eye up, think straight, that's the girl, SUPER, pet him."
Next time, Senator beats Jenny to the punch: "He did that, he's too clever. You have to be really sitting."
"A horse like this feels really amazing, but he is only six. You have to play with him. Sure you want to get to Grand Prix but you have to preserve what he has. Work him no more than four days a week, no more than forty minutes a session, and get out and ride some trails with him. It saddens me to see horses doing Grand Prix at eight years old. If you want one still doing Grand Prix when he is fifteen, don't go Grand Prix at eight. They have such an innocent brain at eight, and they can do Grand Prix, it's so easy – then comes the Awards Ceremony. Next time, oh oh there's something in there… If you throw them into the fire too early, it comes back to bite you."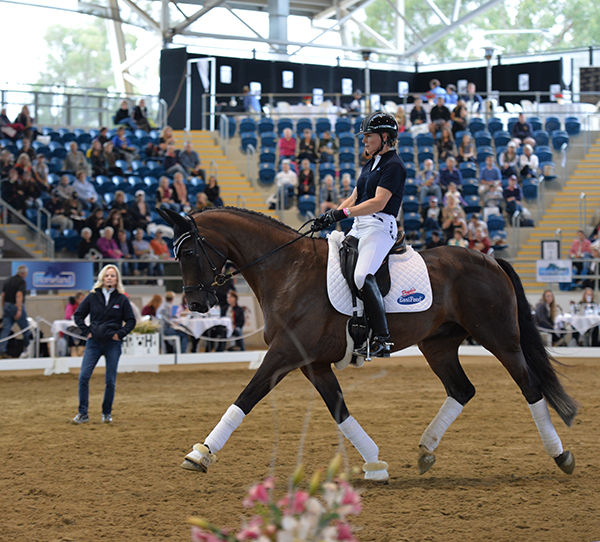 Time out to talk to Laura Graves
Right now, Debbie's most famous student is the wonderful Laura Graves. Laura found time to talk to me about her experience working with the pocket rocket: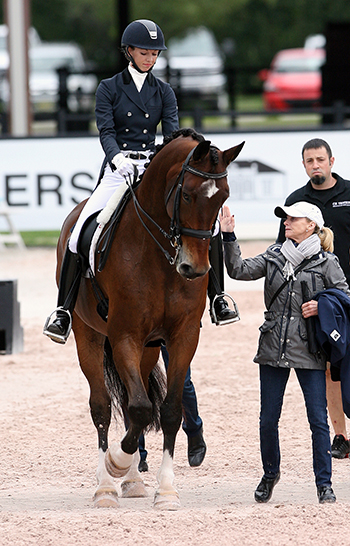 How important is it that Debbie is not just a trainer, she is a rider who has starred at Olympics and WEGs, has won a World Cup final?
"It completely changes the way she treats us as riders. I have people in my life who support me and love me, but with her it is very different, when somebody has had experience of the things you are going through, the empathy with which she is able to teach, and just be with you when the pressure is really high, and the stress is high – and she knows that you have media obligations, and obligations with owners and sponsors. With Debbie you don't have to explain yourself. For me, working with Debbie at a competition, she is absolutely the easiest person to have around, and it is because she has been there, done that, and she knows how riders want to be treated."
It was amazing, this little woman in this huge arena, but she has such a charismatic personality, is she a motivator?
"She can be – it's not that she puts any pressure on her riders at all, but it's something we all feel, it's a very mother-like quality she has – and we all feel the need to make her proud. There is no better feeling than when you have a good ride, and there's nobody more excited for you than Deb, she's standing on the side lines, jumping up and down, screaming, she has this big whistle, that's the thing that we are all riding for and so she motivates us in that way. It doesn't come from a dialogue that we have, it's just something in the way she reacts to our success that makes you want to work for her."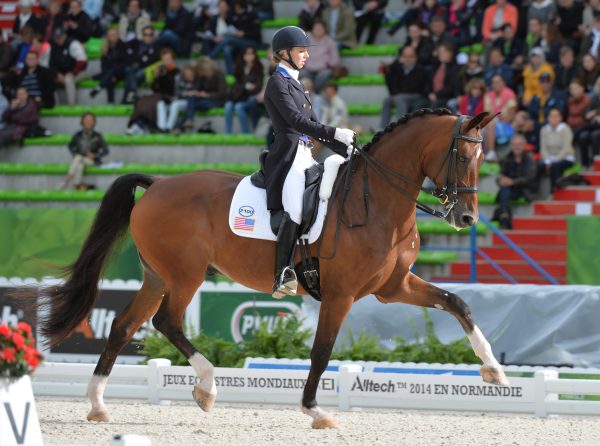 "What I always say about Debbie is that she is truly a trainer's trainer. She respects that we all have our horses, and we spend time on our own training ourselves. We have our own businesses, we all are in our own way, trainers, she respects that and she is not telling you, now it's time for a shoulder in, now you have to ride a half pass, she allows you to go with your program and make choices for your horse. And then, it's like, it would be a little nicer if you were more equal on both reins, or no no, that's a little too fast, that's enough now. It's more really moulding and shaping the way that you spend your time when you are riding, not so much telling you what to do, but making sure that whatever you decide to do, is done to a very high standard."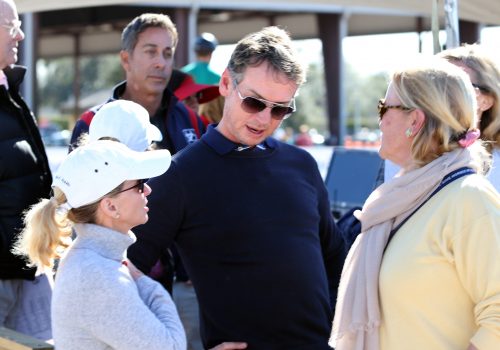 I was talking to Debbie at our Dressage Festival, and she was saying that she was worried for a while that dressage was on the wrong track, but after Carl and Charlotte, and your success, dressage is showing a much kinder, more classical face…
"I think we saw dressage sport take a big stand in the Olympics at Rio. You really saw for the first time that people who were riding and training correctly were rewarded with super scores and it has continued into the 2017 year. Where something might be produced out of tension – and we never know what goes on at home – with all these top horses and trainers, we can guess, but unless we've been there, and we saw it, we really don't know, and the judges can only judge what they see in the arena, and it is nice to see that they are not rewarding something that is being produced out of tension, they are really looking for the harmony, and relaxed, happy horses and good training. It's really nice to see, and it's not that they aren't huge moving powerful horses, not that they are less capable or less scopey, it's just that it has taken a turn when they really are rewarding good training."
---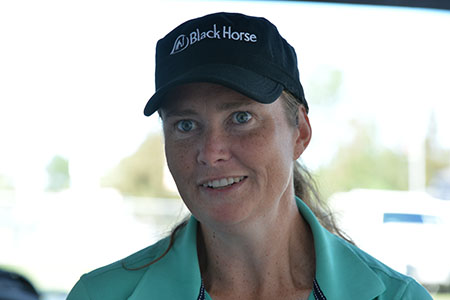 Back to Australia and the Queensland Festival organizers were really getting their money's worth from the visitor, not one but four master classes spread out through the day. Riding in the third one was Kristen McAuslan and Sirano.
"I had two lessons with Debbie on Wednesday morning and Thursday morning."
And her message, is it the message you are used to getting?
"I guess a lot was the same, but she had her own things. She was quite fussy about riding corners. Maybe not so much for the others, but her message for me, was really riding through the corners, really collecting in the corners, getting the horse to sit, flex to the inside, get them really through and round, to set up for the movements coming out of the corner – and there are quite a few movements that come out of corners, so it is important."
"My horse is quite spooky and he was quite spooky during our lesson the Thursday, particularly in one corner. So for the spooky horse – my horse – the lesson was about getting ultimate respect for the inside leg, to make sure he didn't cut the corner where he was scared. Keeping him off my inside leg, to keep him on the line and keep his attention to the inside."
Who do you normally train with?
"I train with Nicole Tough on the Gold Coast."
And the horse?
"Siriano. I've had him since he was a two-year-old and I've brought him right through myself with the help of Nicole. Siriano is by Sir Donnerhall, out of an Australian Warmblood mare. He's training Prix St Georges / Inter 1, at the moment. We only started competing Prix St Georges last year."
What are the main things you want to work on in the session with Debbie?
"Because he's spooky, keeping his attention in an atmosphere as big as the Festival and also he can be a bit slow and lazy. We were working on quickening him up, making sure I got a good reaction from every aid that I applied, and not a slow reaction. Quicker, and keeping his attention."
Once again, Debbie had the horse's interest at heart: "We are going to work on changes today but in fairness to the horse, he needs to warm up first."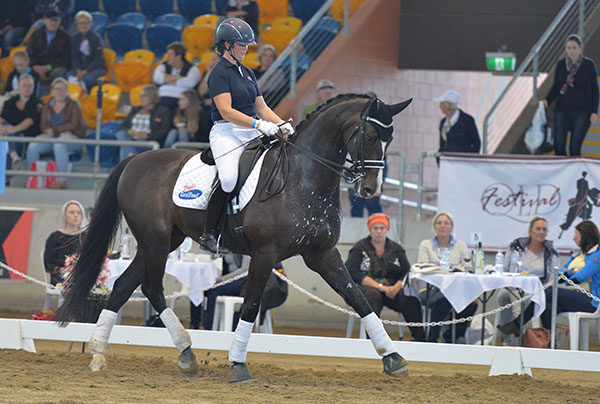 Oh oh spook…
"When you feel him coming up, put him into shoulder in, keep him busy, let him go a little sideways when he wants to look."
Time to get down to business:
"One of my pet peeves is horses that can't do a prompt, clear walk / canter transition. If they are sharp on the aids for the transition, I am pretty confident of producing flying changes."
But first a little more lateral work: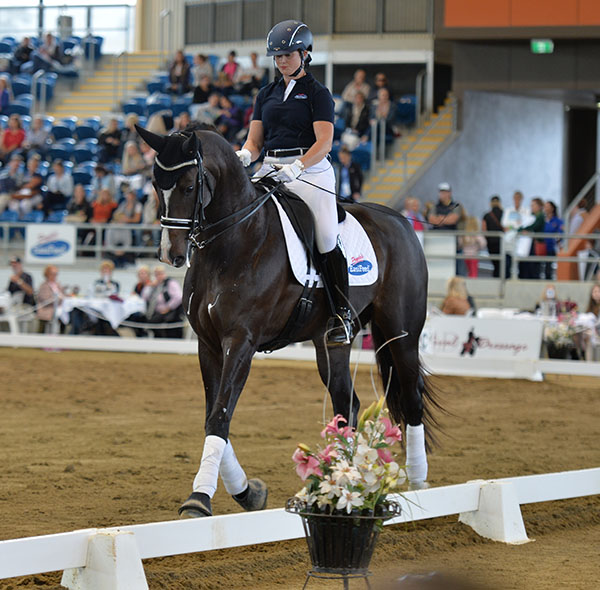 "Forward – think add and not subtract, he is already behind your leg. Don't nag – go rising and then let your leg hang quiet. Ask for haunches in, and shoulder in, he comes off the rail because basically he doesn't understand your inside leg."
Here it comes again, this should be engraved in the mind of every rider who aspires to correctness: "The quality of the gait is far more important than the movement."
"Canter a little and see if we can't make him a little sharper. Try to cover a bit more ground, more forward on the short side."
Once again the eye was on the rider's position:
"Clear aids are so important, and you have a tendency to ride with your leg back, and that confuses the horse when we work on the flying changes. By nature he's not a hot horse, he requires quite a bit of leg. Now a walk / canter transition, right on the aid, that's our preparation."
Once again, Debbie came back to her theme about how a horse can teach a rider to get into bad habits:
"A laid back horse will teach the rider to throw his body around to do the changes. He wants you to work a little harder than him. You can change that, but you have to be committed. When he backs off, bump him with the leg – go to the rein. Sometimes he canters and backs off before you ask for the change, and you are getting a little over your seat, not sitting and making the change in front of you."
Debbie is not going to pretend that negative reinforcement doesn't have a rôle in training the dressage horse: "Make it clear – you've got to fight harder than this. Offend him please, give him a big wallop (with your leg), he's got to take you more seriously. Now really gallop down the long side."
"When you get into a muddle, don't stop focusing on what is important – reacting to the leg. Bring him back, then ride forward to the change, don't just abort the mission. You've got to think quicker – Sweetie, I have faith in you."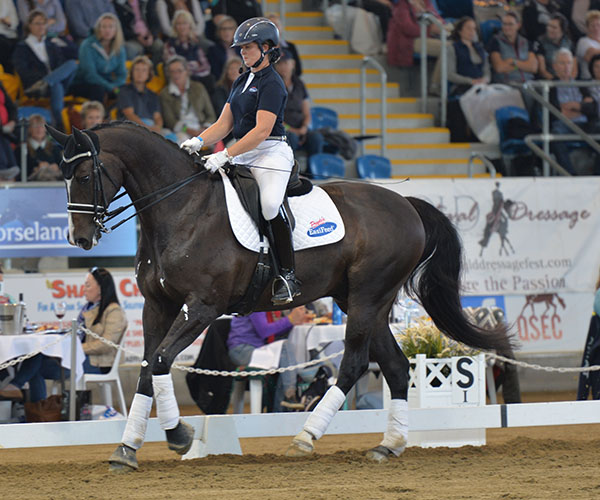 "Dressage is not an easy sport, there are so many variations, but the reaction to your leg, and straightness, are so important. You just don't see top Grand Prix riders kicking or straining for a result. Don't tease him, tap there so quick he doesn't know it is coming. Everything in a horse's life should be black and white, not grey."
Time to get serious: "Touch and GO! Sit up, sit pretty. Let him carry you – you're letting him think too much. Give him a push, sit and push, try not to step out of the stirrup. You come off the saddle in the changes, if you came to me, you'd be working without stirrups."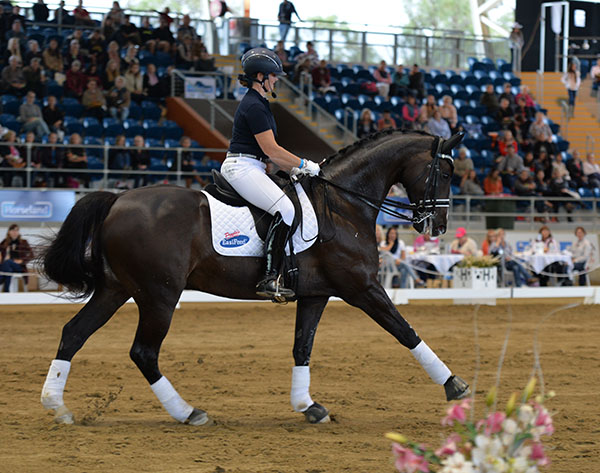 "It has to be forward thinking. The horse wants to get to the end of the arena, no matter what movement you are riding."
"Flying changes for some horses come naturally, for some it is a struggle. Horses teach us to compensate for them, keep it clear, keep it straight and forward."
The next pupil is Shannan Goodwin. Shannan and her horse Aristede were called in at the last minute when one combination pulled out of the Masterclass, which was in a way lucky because this combination really inspired the teacher.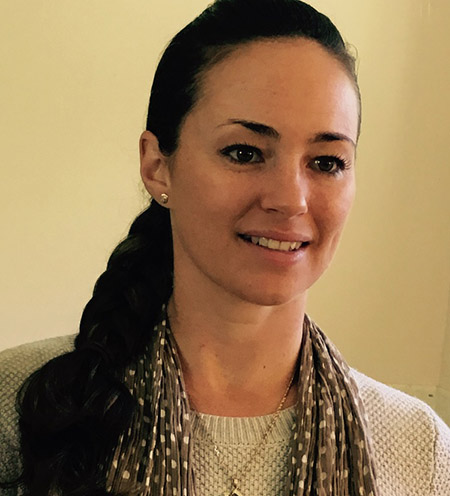 Shannan tells us,"It was lucky, I almost went home at lunch time!"
Her bay gelding is by Aachimedes, but unfortunately for Shannan, his hind end looks – and works – a lot like his dam sire, Lander – an old fashioned, out behind, Holsteiner…
"He's my first dressage horse. I bought him as a breaker and I've brought him through since them."
That all sounds quite simple, but not many people start out on their first dressage horse and end up taking it to Grand Prix…
"No, it's his work ethic and trainability, and I guess I've had good coaching on the way from Melissa van der Berge. She picked him up about two and a half years ago when he was competing Advanced and they clicked completely. He struggles with his hindlegs, they are a bit out the back, which is how he is built, he is built croup high. He just found a way to engage as best he could and soared through to the higher levels, it was quite effortless."
Debbie was quite moved that you had taken a horse with less than perfect conformation, and still got to Grand Prix…
"Yeah, it's pretty cool."
How did you find Debbie's coaching?
"I loved working with a trainer who takes what you've got and works on it, then you can replicate that at home. Sometimes trainers want to change so much of what you are doing that you can't replicate it, and you get a bit lost. Debbie was so clear about little exercises that just brought his shoulder up and allowed him to engage. That's the 5% more that he'll work on for two months and get stronger, then the next step is to get the other 5%. That's my style of training to build those increments as he gets stronger and he gives me what he can."
Who helps you day to day?
"Melissa van den Berge."
But don't you live in NSW and she lives in Queensland?
"Yes, but she comes to me once a fortnight and does a clinic at my property, and I get up to her and Tor when I can, and have weekends up there."
And you have a life away from horses…
"Yes, I'm a child psychologist. I also have a dressage stable and I teach most weekends. I spend a lot of my day before work riding but that's nice riding, it's not all psychology."
Child psychology might be a useful skill set for dealing with the Dressage Divas…
"It definitely helps when I'm teaching dressage to have that psychology background."
What lies in the future for you and your horse?
"I just took him to Sydney for the CDI – that was the dream to ride the Freestyle at SIEC. That was a real kick for me. (Shannan is being too modest, she and Aristede finished 6th in the Grand Prix, in front of some famous names) Now it is just a matter of keep going. I realise now just how many intricacies there are, and that's what I'm loving at the moment, the fine details, improving each transition. I'm just going to keep doing that because I realise how much it is improving me as a rider – every day I get to sit on a Grand Prix horse."
I thought one of the things about Debbie was not only how accurate and sharp she was, but how warm…
"Wasn't she lovely? Just the most encouraging woman. I really thrive on that positive motivation. If someone has that kind heart to your horse, it is so motivating."
It came as no surprise that Debbie's message was simple – "the reaction to the leg is everything. The ability to collect a horse from the seat and leg, not the hand, is quite an art. This horse has a nice piaffe, the passage is harder for him but I think we can work on that, but first we'll do a bit of canter work – the zig zag."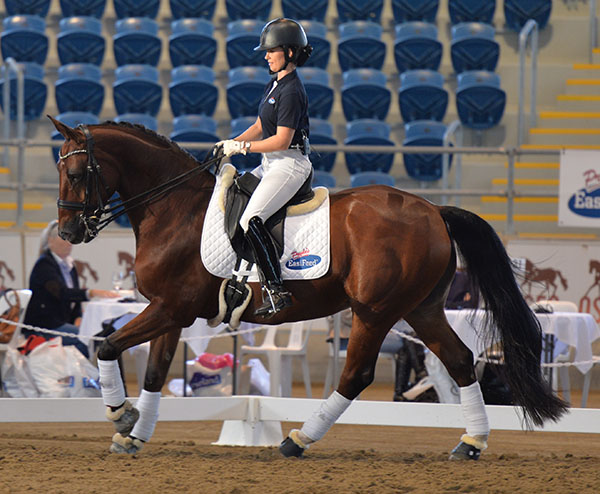 "Get a little more collection, get him a little more uphill, and get him straight for a beautiful change…"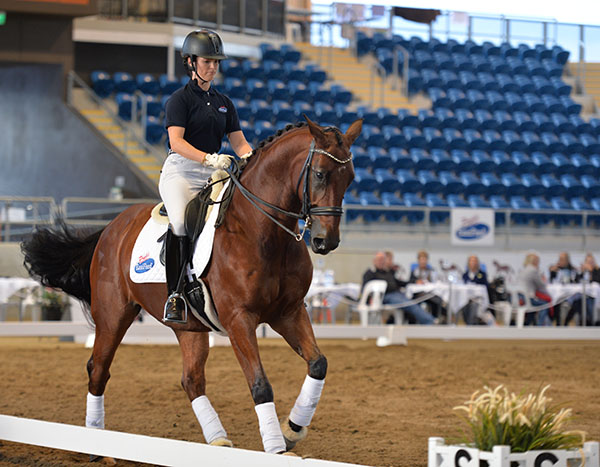 And the twos?
"Sit straight, keep the bounce, look at the letter between his ears…"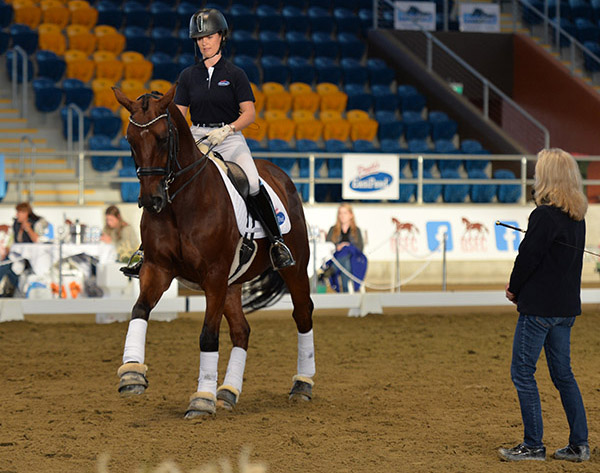 Now Shannan is playing with the ones on the long side. "Good changes, your changes get better when you don't have to move your leg so far."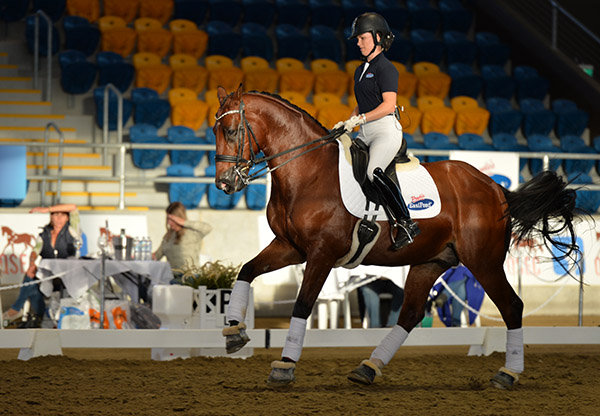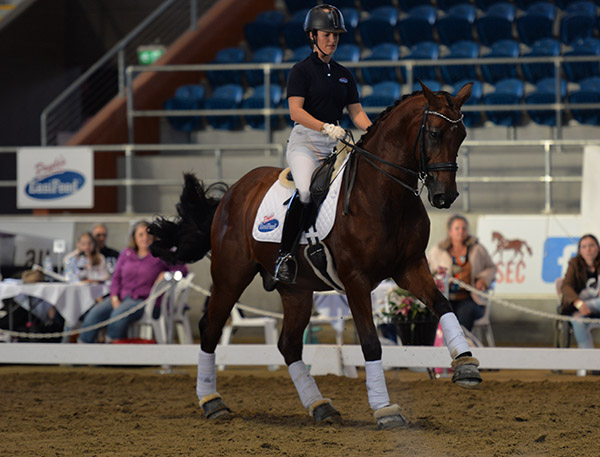 Let's try the piaffe and passage:
"Establish a really good trot, first I want him to shorten in a good forward way, with the balance more uphill. If he gets too hangy then a couple of steps of medium. Always think forward to passage, think leg before hand. Weight back a little more, let him think creep – good job Sweetie."
"It has to be clear in the horse's head that passage is just a trot, just a trot, just a trot. If they start to think it is a trick, that's when they worry."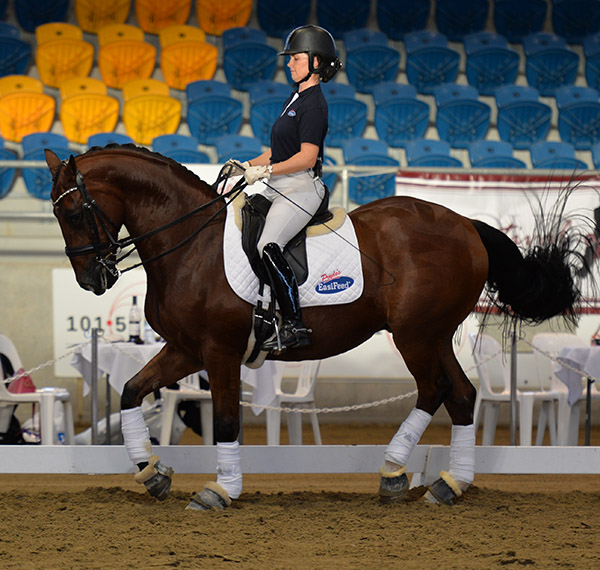 "In the piaffe, make a little pirouette, that makes the horse think about going somewhere. Help him with the whip, especially coming into the piaffe, don't wait until it gets slow, help the first step."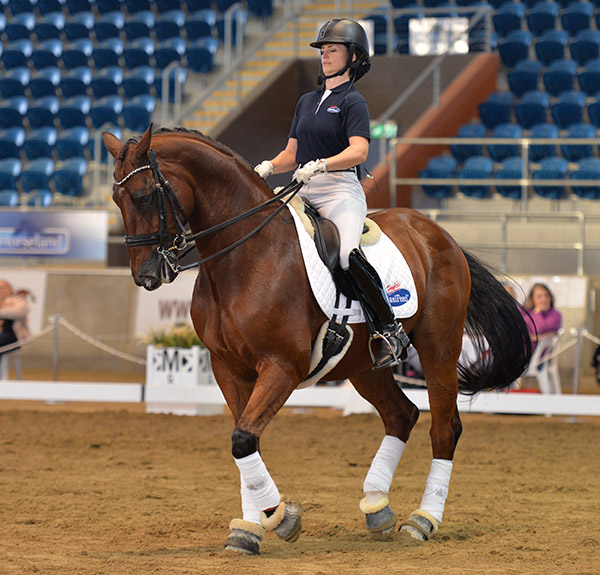 Debbie was really impressed that Shannan had been able to turn her duckling into a Grand Prix Swan. "Look at him – really?? But he is a Grand Prix horse, someone has taken the time and preserved the brain, and he is a happy horse."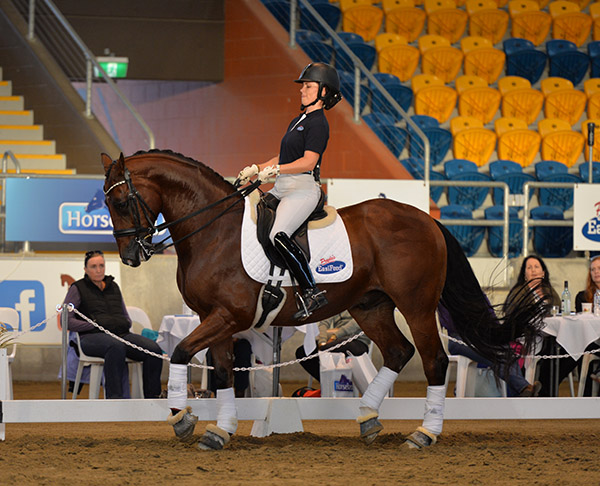 "Oh yeah, half passes." And forget that Debbie is on her fourth training session in a very long and demanding day, she says it with real enthusiasm.
"Half pass to the wall, now shoulder fore, that's good for him. Take what you get with the movement and make it the best you can."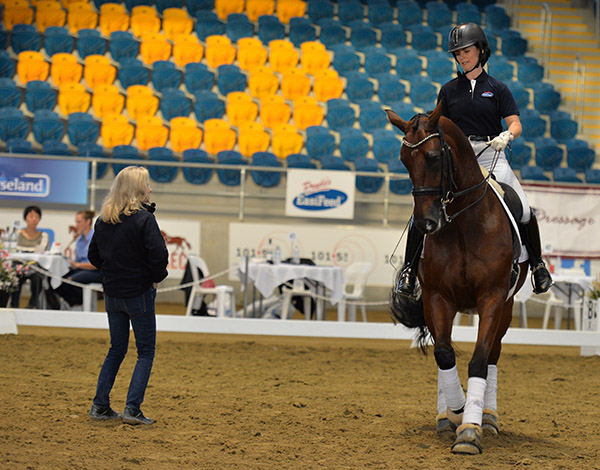 The pair finish with style: passage / piaffe / passage. "GOOD GIRL! Praise the heck out of him, you have to love and appreciate a horse like this."
---
And you do have to love the generosity of the trainer – after four power packed sessions, Debbie still has time for some final Q & A…
It seems to me there are two sorts of clinic – one where the presenter does a sort of song and dance routine, with some well practised moves and jokes, and the other when the clinician really concentrates on working with the riders, really focuses on the details…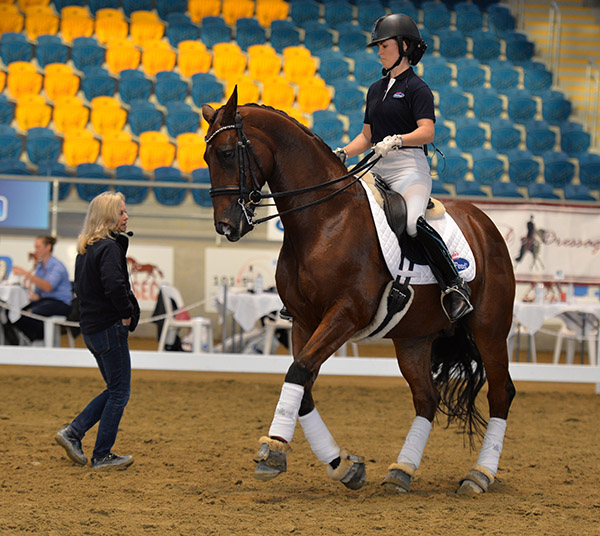 "I'm very detail orientated when it comes to a reaction from a horse – the rider sitting and doing less, and the horse doing more. As a five foot woman, I've learnt over the years, I can still ride a very large horse, but it has to be sensitive, and it has to be thinking forward – because then it doesn't take strength."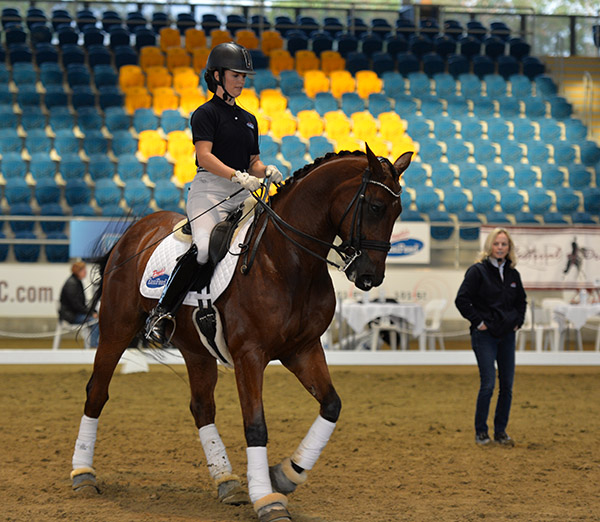 You said sometimes horses might have a bad day and you could compromise a little, but not on reactions…
"No, I am really sincere about that because I know what happens in the life of a Grand Prix horse when that test never changes. They say they change the Grand Prix test every four years, but this test has been going on for a long time, and the horses know the drill. They know when they are going down the centre line, that there's not a lot you can do, if they say they don't want to go. So if you don't keep that forward sensitivity thought in a horse's mind, then you probably won't have a long Grand Prix life with that horse because they will learn to shut down."
The famous centre line fever…
"Yes, and it happens to the best, it really does."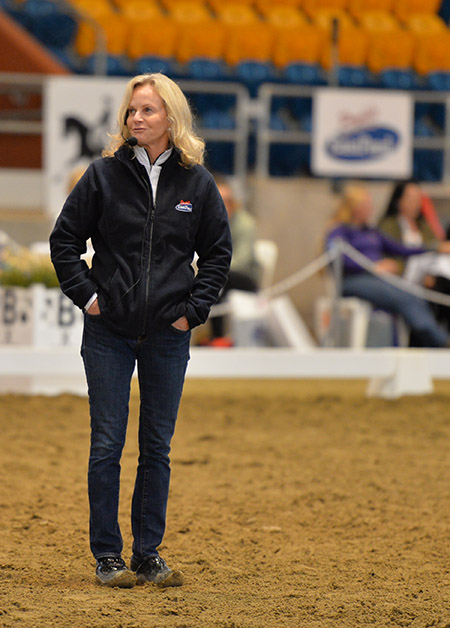 Another thing you said today that was super interesting, was how quickly horses can teach the rider to compensate for the horse…
"They are training us quite well sometimes. Let's say we want to ride a half pass and you know that horse isn't really bending around your inside leg, then a lot of the time you'll see riders just crank the neck to the inside and start kicking. The horse is training the rider to do the work that they should be doing. Little things, like letting them slide on a walk / trot transition, then we think, oh that was okay, but it really wasn't! Could you get away with that, from halt to trot right in front of the judge? No, that would be a 6. And I always say to my riders, what would you score that? Because my life is about the show horse, sure I help amateurs and others, but my goal is to have people think like they are going into the Grand Prix ring. Don't just think it is First Level, ride it like you are a Grand Prix rider. You've got to set your standards a little higher than what you think you are doing at the time, then you challenge yourself to be a better person and a better rider."
And the challenge still burns bright for you?
"Absolutely, I'm still as passionate about it as I was. Today – and this is not a joke – I watched the horse that finished that whole session (Shannan Goodwin's Aristede) who is physically compromised to be a Grand Prix horse, watched him put his heart and soul out there for her, it made me get emotional, because I appreciate horses to that extent, and if I ever get to where I don't, then I need to quit. But I am not there at all."
I thought it was nice you didn't get one leaning back rider…
"Overall I have been very impressed with what I've had to work with here. I was serious in what I said, your country like my country struggles to find good help, but if you really want to be a good rider, some of them will travel long distances to seek help, you have to be willing to put yourself out there, if that's what you want. If you want to be just good, and okay, fine, but if you really want to start going up, you need eyes on the ground."
In Australia, we have a problem that even our Grand Prix riders tend to struggle with position faults, that doesn't seem to be a problem in your country, your riders sit very correctly…
"We do have some that do struggle, but I think we do try very hard to start our basics on the kids that are coming up, with good seats and a program for them. I think that's where we are getting stronger, we actually have youth coaches, we have the developing coach, and lots of just great coaches. Anyone who wants to be serious has to take their position into account, even top Grand Prix riders. You go to Europe, and you will see Hubertus Schmidt with his wife, and he's got an ear thing in. Even the top riders still have an ear and an eye on the ground."
Do you think dressage is going in the right way now – for a while there, we lost it…
"I was getting worried, it was not harmonious, horses' backs not moving – not giving a horse like Aristede a chance, and for me that is wrong. The best thing that happened for our country was that we beat Holland, but now we know they are going to come out really fighting next time. They're not going to let us do it twice without a fight. We have to keep our game even more on top. It's even more of a fight now than we've ever had."
Do you think that the judging has turned a bit of a corner – pushed along by Carl and Charlotte…
"Definitely, I do. I think the judges appreciate harmony, I think they appreciate it when it looks easy, and a horse loving its job. There have been those spectacular horses like Totilas, and Edward, anything he rides he can somehow make work, but at the end of the day, it always looks like a lot of work, and I think the judges really appreciate a horse doing a lot of it because they love their job. I think it is going in the right way. I know there's a lot of controversy in the judging and the system and the scoring and everything else, but I have a lot of respect for judges because it's a terrible job. Everybody hates you, everybody blames you, and at the end of the day, I really want to believe that they do the best job they can."
Steffen Peters said to me once, you can look at the individual judges scores and they can be all over the place, but generally when you look at the placings, they get it right… I can think of very few occasions at major events where it was just wrong – Anky should have beaten Isabell in Rome, there was a lovely chestnut mare underscored one brilliant night in Jerez, but on the whole I don't think the system is broke, and I am not sure we should be getting so excited about fixing it. The placings at Rio came out pretty well where they ought have been, except Isabell hypnotised them in the Kür…
"I agree, they very seldom get it wrong, and I really think we can't be negative or we are going to turn people off our sport. We have to think positive and march forward. The more we talk how negative the system is, the less people want to get interested in it. That's what we have to think about – how do we keep it exciting so people want to watch our sport."
And with that, Debbie hopped on a plane, for she had a whole team of riders waiting for her at Wellington, at the US Championships. Let's hope she makes the return journey sometime soon.
A note to the reader: Congratulations, if you have got this far, then maybe there are people who don't think everything can be said in 40 words or a 30 second grab, that great trainers deserve to be heard, and heard in depth.
Thanks for joining me on the journey… Chris
Click here to see more from The Horse Magazine