Carl Hester Talks to Horse Magazine About Euro Champs & Judging
6 years ago StraightArrow Comments Off

on Carl Hester Talks to Horse Magazine About Euro Champs & Judging

/>Interview by Chris Hector
Let's talk about Nip Tuck – I guess there must have been dozens of horses that you have started that look more glamorous, that move more brilliantly, that never made Grand Prix. How important is what you can't see, what's inside?
"Good point, that horse proves it all doesn't he? I'm 48, coming up 25 years at championship level with different horses, and that one still taught me a great lesson. His owner Jane de la Mare is a really good friend of mine, she was a groom at Dr B's (Dr Bechtolsheimer, father of Laura and owner of Carl's Barcelona Olympic ride, Giorgione) when I was a rider there. So this is a good partnership between the three of us. We started at the bottom, Jane and I together. She's from the Channel Islands too. When I got the horse, Nip Tuck was nothing on the way up, but I always said, 'I know he will do a Grand Prix', that's all I could say…"
How did you know that?
"You know when you ride him. You can ride that horse in a pair of slippers, it just wants to go. You don't have to ride with a whip or spurs, nothing. The sensitivity is there, and if you touched him with a whip, the horse was like, right, I'm going to piaffe. That was a natural thing for him to do."
"I said, I think I can teach him everything. Last year, when he got to Grand Prix I said, he's not going to be good enough. Jane said, oh please do a Grand Prix with him before we sell him. I said, we'll go down the road where no one goes. We went to a back-of-beyond Grand Prix, and the blooming horse gets 77%. He was as green-as-a-leek. When I came out, I said, I can't believe it, he was pretty tense last year, he's a very hot horse, and January / February is not a good time of the year for him because he's not in the field as much as I'd like. I said that's unbelievable – the horse is so tense, but he tries his absolute hardest not to make a mistake, he's doing what I said."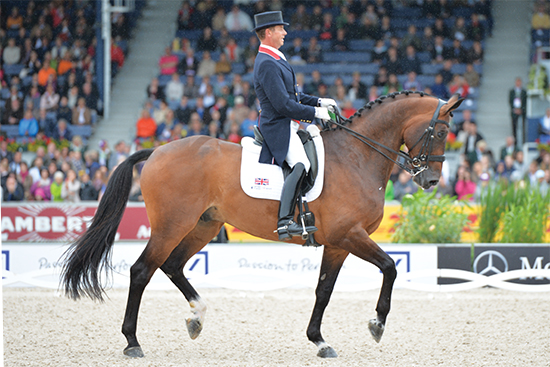 "Then Jane said, 'oh please will you do one international'. I went, I'm not doing an international on him, he's just not good enough! 'Please before we sell him, do an international'. I said I'll take him to Saumur, that's a small one. And of course, he gets 71% at his first international! I thought, maybe I am being a bit hasty here, I'd better settle down and start believing in him. I just changed my mind about him – the biggest thing is that every day I wake up I think I can't wait to get on that horse. He will go through the Grand Prix in a snaffle and a pair of slippers, it is a very unusual horse. I know physically it is demanding for him, he's got a long back, his hind legs were naturally always out, he didn't really have a walk because he was so tight, he didn't really have a canter because he was so tense and always trying to run off – and his trot had to be developed."
"Everything that goes in a Grand Prix has helped make him a better horse. Once he learnt a canter pirouette, he started to take the weight back in canter, once he learnt to passage, the trot started to develop because before he had no lift, no nothing. It has just been a great lesson for me and I am delighted that I have been proved wrong, because it helps you in so many ways. It helps you as a trainer, because instead of saying to somebody, oh your horse is not good enough, now I say, well actually I tried this, I tried that, let's see if we can develop something with your horse. Obviously on a personal level, every horse I get up to this level is a challenge for me, and that's what I do it for. I love the opportunity to get a horse up to this level."
"I suppose the best thing about it, at my age, I've done so many championships, it is not about winning a medal, I don't care if I win a gold medal. I would love to, but bearing in mind, Valegro and Nip Tuck work together, I'm looking at one and looking at the other, and there is no point in me thinking, why is she getting that score and I'm getting mine? I know why, you don't need to be a dressage expert to get it, but I really feel that when the horse does a test like he did in the Special, that horse put as much effort in, as much hard work in his head, as Valegro. So, on the one hand, if somebody hung a little plastic gold medal around my neck yesterday, I'd be like, thanks very much because that horse deserved his gold medal yesterday."
After Valegro didn't have the greatest Grand Prix did you give Charlotte one of your famous bollickings?
"You know, I didn't this time. One good thing happened in that Grand Prix, I don't think anyone could be critical of Fiona (Bigwood), for where she is now, and where we are with her training, she met our expectations. Brilliant. I missed my flying change at the end of the canter and got a 4, fair enough, quite right. Charlotte didn't count to six, she counted to seven. Did I lose the Team Gold medal or did she lose the Gold Medal? One of us did, and I think this was not the time to be saying to Charlotte, you caused that, it could have been my score as well, it was that close."
"Another reason is that I do realize at times, that her confidence, while she is a very brash, forward person, I know deep down, out the back, there's this whole thing about Aachen, it was like absolutely stifling for her, to the point of I'm not really sure I want to ride. I was thinking we need a bit of reverse psychology here. It's like, we could have had a gold, but we didn't think we were going to get a gold, we got a silver and we just have to be happy that seven years on the trot, we've won medals."
She was totally different in the Special?
"Totally, it was like back to the old days. The other thing to remember is that it was ten degrees cooler for the Special than it was for the Grand Prix, and the horse is just not great when it is hot. You've stood next to him Chris, you've seen his legs, he's a chunky monkey. When it's hot, he's like, stuff it. There's one thing in his favor, but it does work against him as well, he doesn't care about crowds and he doesn't care about arenas. He's so laid back. Unfortunately you don't have the lift effect when he goes into the arena. He's happy, he's jolly, he's up for it – even when he's a bit hot or tired – I know it is not going to make any difference when he goes in, he still feels the same. It's great for all the relaxation marks, not great when you need him hot and looking like a million dollars. He was getting better in Special."
I don't want to drop you into it, but we do have to say, going into Rio, the judging situation is fragile? Marks were all over the place in the Grand Prix and the Special – I don't think these are evil people, I think they are trying their hardest to do a difficult job, but we do have a problem…
"Yes, we've had a problem but the general consensus is that after these championships, it will sort itself out because of what's happened. On the positive side, two judges finally became brave enough to give marks that no-one thought would ever be given to Totilas. Finally somebody stood up and said, I don't think this is right, we are going to give the marks it deserves, surely that gives the confidence to the other judges that they've really got to start being competent enough to actually give their marks, rather than think, what am I supposed to give? These people have been around for years and of course they are not evil people, they are good people, but I think this championship will make them, and we'll get it sorted."
What worries me, if you look at the composition of our judging panels, they are not people who have come from business, where they have to make very fast decisions under pressure, or, none of them comes from a background where they have ridden a top Grand Prix horse…
"It was interesting, Mr Truppa said to me, 'we judged at Hagen, and did you see the results?' He said, 'we were all the same.' You were all the same? He said, 'that's the old group, we are the original group that has been doing it for years.' That is a problem, on one hand we have to open the judging to the world, take judges from all over the place, every country has trained them up, but there isn't a culture in so many of these countries of having ridden at an advanced level, of having been immersed in it for years, and I think a lot of people think the panel has to consist of those people that have been in it for a long time, who have the experience to judge alongside each other and have the feeling for it. So the answer is in their own body."
But we are not going to have a change to the Rio panel, and one of those judges distinguished herself by giving a silver to Andreas Helgstrand, and then distinguished herself by giving an 80 to Totilas here at the Europeans – her reward? Rio.
Carl is chuckling: "Third time lucky, that's all I can say, and for the sake of the Olympics, let's hope that is the right one."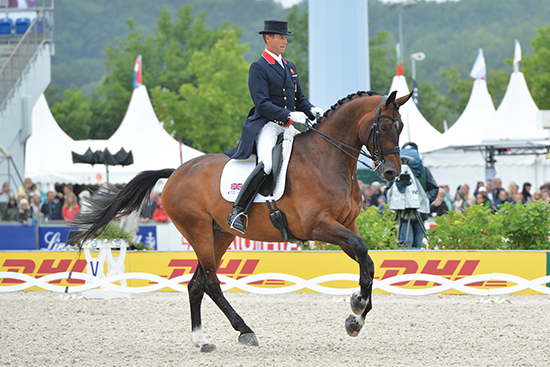 Do you think it would help if they had some sort of instant replay available to them in their box, they could say, I want to see movement 12 again, that wouldn't be time consuming…
"Great idea, but then they need to wait till the following rider has finished, at the moment the JSP fill that role. They will correct it if it is wrong. You can see on my sheet, they corrected the score, and Charlotte's."
Put you up or down?
"Down. Poor Michael Eilberg, his ambition here was a 70%, and you know what, he got 70 in the Grand Prix and they corrected it down to 69 something. He does the Special and gets 70 something, they correct it down, to 69 something. So I know the JSP was in operation."
How can we have an experienced Ground Jury that can't see a lame horse? We now have veterinary evidence that the horse was lame from day one, hello, where were the vets?
"Surely it has to start at the trot up. The interesting thing that I found out from this championships, it's not is the horse lame or sound, it's is the horse fit to compete. What the hell is the difference there? The horse has to be sound, that is fit to compete. It's not a question of, it's slightly off but it's fit to compete? It can only be is the horse sound? – and that can only start at the top. If they have to have three vets at a trot up, then let's have them. That's where it starts."
"We've had to open up the warm ups, they are open now, perhaps the trot up has to be open as well."
Do you still get an Aachen buzz
"Yes, I do. The interesting thing is that I don't ride at Aachen very often. I've actually been last here, I hold that record. In 2004 on Escapado, that walk of shame, coming out of A, to go back through the entrance and to the stables, is probably one of the longest walks I've ever walked, with that damn horse jogging the whole way back, foaming and so over-excited. That was my Olympic preparation. It caused a huge controversy, I heard women in the toilet who were like can you believe they put Carl Hester on the team, grr grr. The selectors were very good to me that year, I said, my horse will be fine if he is able to be in a venue for a couple of weeks. He can't come to Aachen on a Wednesday and compete on a Thursday, and expect him to be settled. He was just too nervous, he was mostly Thoroughbred that horse. I've had that privilege, so Aachen has never been a place where I've had a great ride."
"Then with Charlotte, of course, she started getting the vibe off me, like well let's not go to Aachen. I don't mean for the championship but generally. But it is without doubt a great show. This is where the WEG should be all the time. It's absolutely perfect, people love it. It's full of buzz and atmosphere, great stabling and surfaces, there is nothing to complain about. As a competitor I'm just glad it went right for me, and right for Charlotte, and our team. Funnily enough I could see it on my face when I finished the Special, it was like, I actually really enjoyed that. No nerves, no nothing, just out there enjoying my ride and in an atmosphere that is appreciative when things go well. There is a buzz still for me."
This article first appeared in the October 2015 issue of THM.