I must admit when I looked at the Frankfurt program, seeing the Grand Prix was not high on my priorities. It is usually a pretty normal class of horses, but when I looked at this year's start list, that all changed. Isabell Werth was to appear with Don Johnson and Kristina Bröring-Sprehe was bringing out Desperados after a long time out of the sport, but I hadn't realized that the highlight of the day, and perhaps the show, was to be the test from the Danish pair of Daniel Bachmann Andersen and Blue Hors Zepter…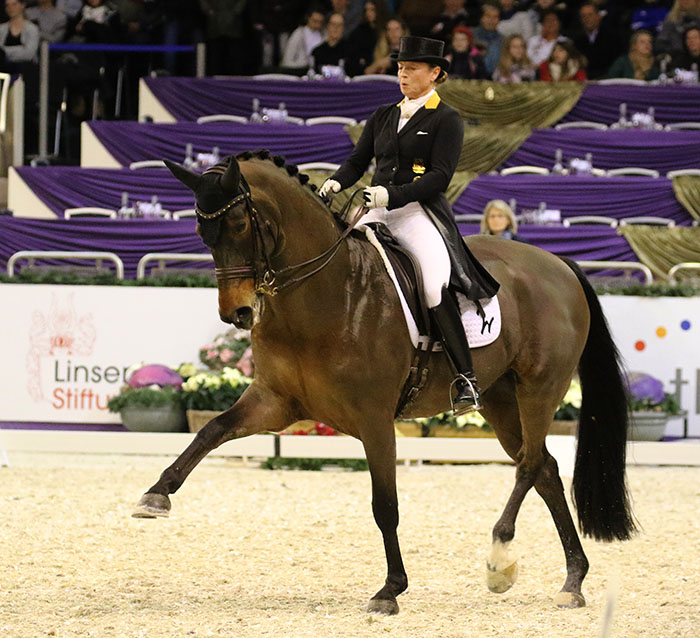 Isabell and Don Johnson
Isabell was, well Isabell, but Don Johnson (Don Frederico / Warkant) showed yet again what happens with correct gymnastic dressage training. Don Johnson will never be a pin up boy, but thanks to the power of good riding, he is a very handsome, imposing creature. The passage looks a little weird at times but it has been a polished show for a score of 75.087 per cent and they grab the early lead. First with all the judges.
But it was the chestnut who came into the arena next, Blue Hors Zepter (Blue Hors Zack / Wolkentanz II) who took the breath away. A huge rhythmic trot, awe-inspiring half passes, very fine passage/piaffe tour, unhesitatingly from walk to passage, and the big gelding really sits in the piaffe. The canter is huge, and the canter pirouettes are wonderful.
New Stars – Daniel and Zepter
What a crowd this Frankfurt audience is, they know they have really seen something special, and even though their German hero has gone the horse before, they are cheering this new star combination–and the judges are brave enough to go with their eyes, first with all on 78.543 per cent. Later out back I see German assistant team coach, Jonny Hilberath who comments: "This is the new superstar combination."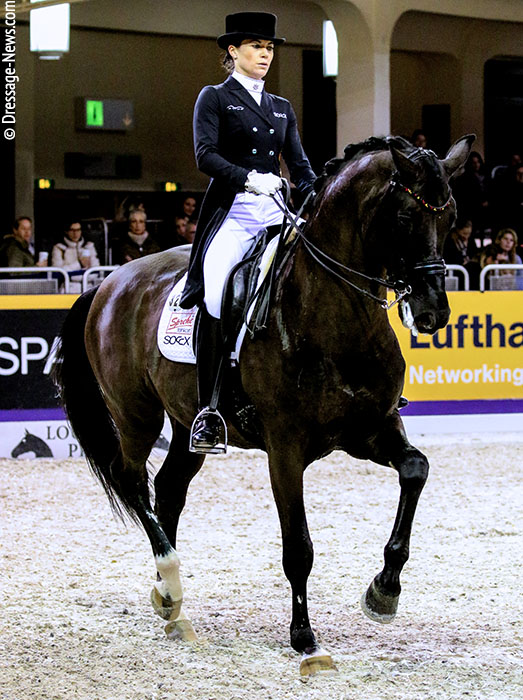 Kristina and Desperados
It is lovely to see Desperados FRH (De Niro x Wolkenstein II) back in the arena. I remember him as a young stallion at the Bundeschampionate, he was beautiful then but looked a little frail. As a 17 year old, he is more powerful, more balanced, and the work is lovely and relaxed. It is great to have Tina and her stallion back on the scene. 76.891 per cent and they move into second place, and second with all the judges, this is good consistent judging.
Jessica von Bredow-Werndl is very elegant and so is her mare, Zaire-E (Son de Niro x Jazz), their test is accurate and attractive and they slip into third with a score of 76.044 per cent, leaving Don Johnson in fourth.
It has been a truly enthralling morning, made better with a new combination at the top.
The next class is another of the Frankfurt special attractions, the Louisdor Prize for Grand Prix horses aged eight to 10. This time I suspect I was the odd man out, I really didn't like the way Benjamin Werndl's Famoso OLD (Farewell III x Welt Hit II) went. To me it looked at bit pushed; everyone else, including the judges, press colleagues I respect and the spectators loved it and they took first on 76.581 per cent.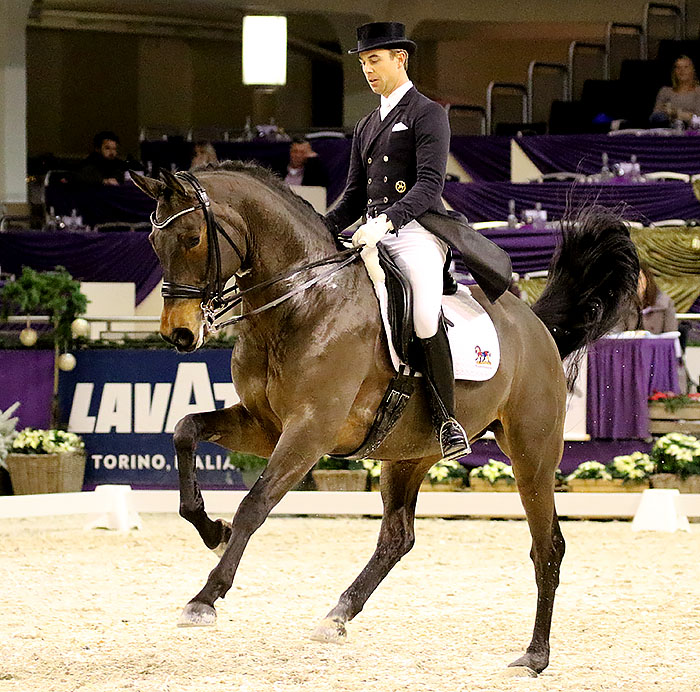 Benjamin and Famoso
I loved Hubertus Schmidt's Escolar (Estobar NRW x Fürst Piccolo) last year when he won the Nürnberger Burg-Pokal, and the intervening twelve months have been well spent with one of the Modern Masters of Dressage.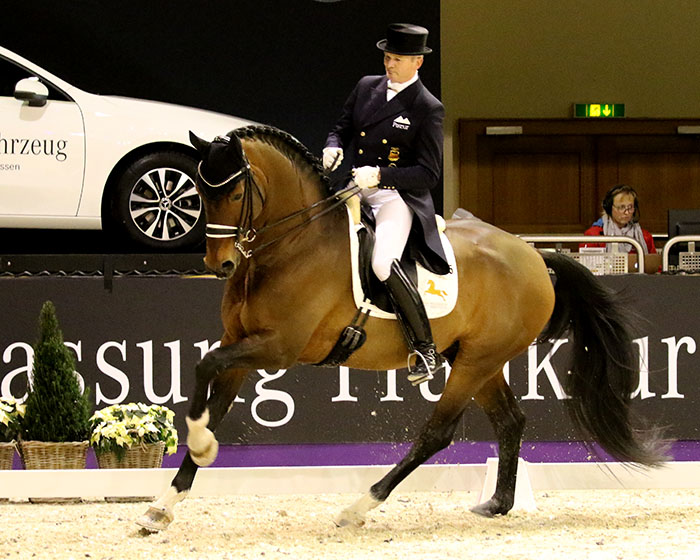 Escolar and Hubertus
The trot is still huge, and the half pass zig zag, amazing. The piaffe is not quite there, but it is going to be big when it is established, and some of the passage was truly super. Majestic walk, powerful canter, okay the canter pirouettes were a little bit wide and baby, the flying changes are expressive (something we haven't seen a lot of) and the final center line is great. It's like big wines, they may take a little more time in the cellar, but the wait is worth it. First with two of the judges but they finish in second on 75.140 per cent. This is the warm up, Sunday's final will be interesting.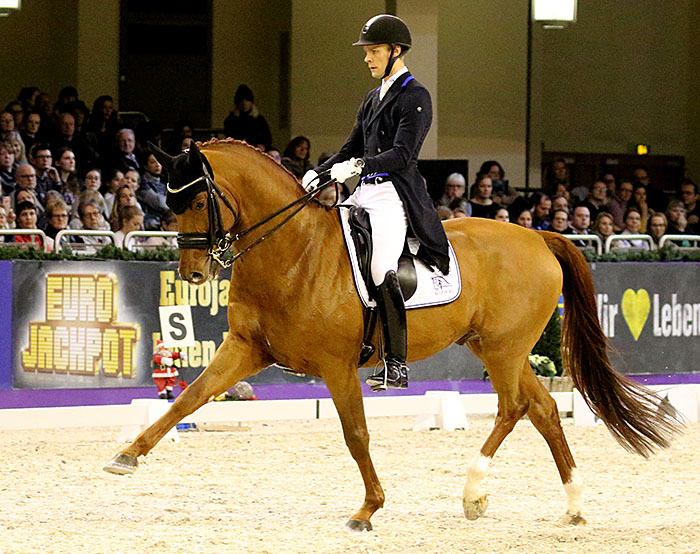 Veneziano and Daniel
Blue Hors Veneziano is an interesting mix by the Krack C/Jazz son, Vivaldi, out of Fabina, by Donnerhall out of the Pik Bube mare, Fiesta, who is the dam of Don Schufro. The stallion has the pizzazz and presence of Jazz  with the Donnerhall foundation, and Daniel  Bachmann Anderson is having some show. Cool passage/piaffe/passage, lovely canter, this young-–one of three eight year olds in the class–stallion is another star in the wings for the mega talented Daniel. They were third on 73.86 per cent.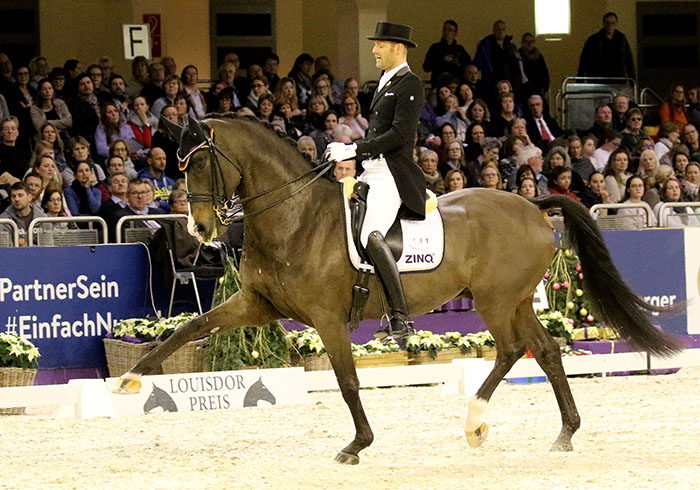 Marcus and Abeglenn
Fourth to another eight year old, ZINQ Abeglenn FH (more Dutch breeding, Ampère x Carabas) who last year in the Burg-Pokal, was off his tree in the unique atmosphere that this hall presents, and Marcus Hermes was riding a bit Dutch to keep him on the ground. Twelve months later, working with another modern master, Wolfram Wittig, and the gelding is cool and correct, and so is the rider, a lovely test for 73.326 per cent.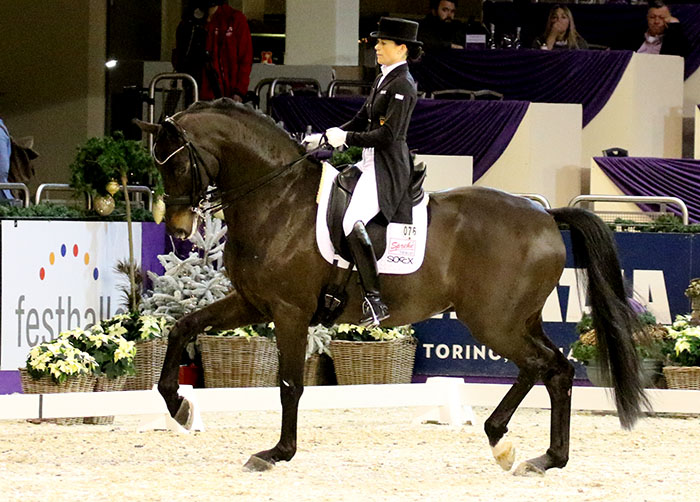 Tina and her Destiny…
In fifth place, another attractive horse, Destiny (by Desperados out of a Sandro Hit mare, but with some jumping power from Argentinus on the bottom line) and again ridden beautifully by Kristina Bröring-Sprehe. They get a bit hurried in the trot, but the half passes in a better tempo are lovely, and the passage is really impressive, even if the piaffe is still a work in progress. There's a mistake in the twos, but the ones are fine. Will he be as good as his dad? We'll see. 73.302 per cent.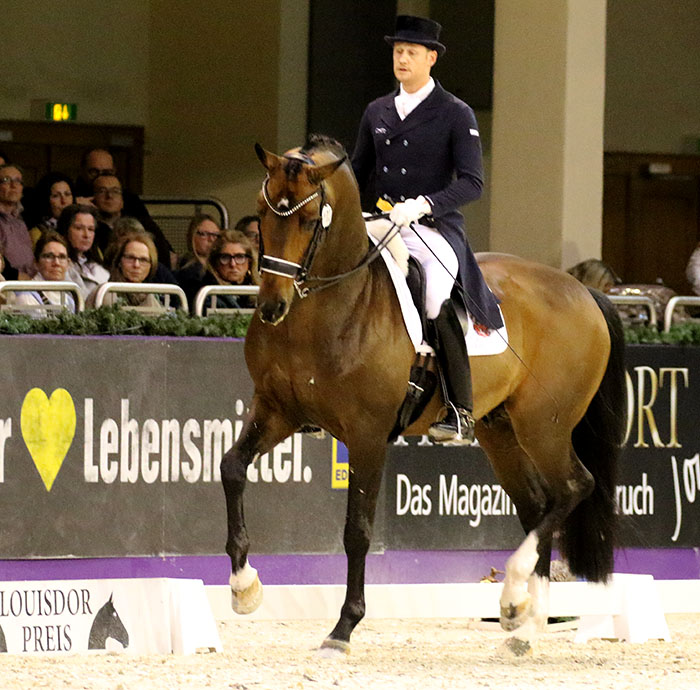 Seventh place to Matthais Alexander Rath and Foundation II on 70.953 per cent

Sixth to the Australian bred SPH Dante (Welfenadel x Dormello), actually he was Saffron Stables Dante, but SS was not considered an appropriate prefix when he was consigned to the PSI sale in Germany, where he was sold for €2.8/US$3.16 million, or so the press release told us. The ride is now with Ingrid Klimke. The extended trot is a bit of a run and he looks a little forehandy in the half passes. The passage is very cute and the piaffe impressive. Fine flying changes… it's nice to see him ridden open in front, I don't think I ever saw his gullet when he was shown in Australia. 72.233 per cent.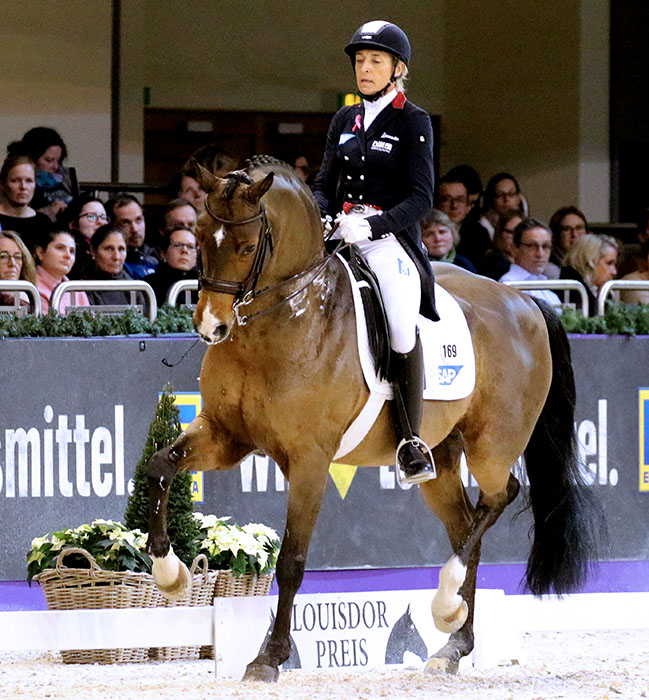 Ingrid and Dante
This class is yet another reason, that Frankfurt is a magnet, an end of the year treat for the connoisseur of fine horses and excellent equitation… And we've got two days of finals to come!
Advisory: Dressage-News.com removed from this report a reference that was in an earlier version of the quality of Grand Prix competition horses. The comment was by the author of the article and not one shared by Dressage-News.com.
Results:
Louisdor Prize Developing Grand Prix
Pl.
no
horse
Nat.
rider
€
E
H
C
M
B
total
1.
97

Famoso OLD




G \ Old \ Db \ 2009 \ Farewell III x Welt Hit II \ B: Schnieder,Lambertus \ O: Keller,Flora

GER

Benjamin Werndl




RFV Aubenhausen e.V.

1.100

75.465%




324.5




(2)

75.349%




324




(1)

76.977%




331




(1)

76.395%




328.5




(2)

78.721%




338.5




(1)

76.581%




1646.50

2.
195

Escolar




S \ Westf \ B \ 2009 \ Estobar NRW x Fürst Piccolo \ B: Ludwichowski,Sabine \ O: Equus Invest AG,

GER

Hubertus Schmidt




RV Altenautal e.V.

800

76.628%




329.5




(1)

72.326%




311




(4)

75.233%




323.5




(3)

77.791%




334.5




(1)

73.721%




317




(3)

75.140%




1615.50

3.
15

Blue Hors Veneziano




S \ Old \ F \ 2010 \ Vivaldi x Donnerhall \ B: Blue Hors Aps, \ O: Blue Hors Aps,

DEN

Daniel Bachmann Andersen




RSC Osnabruecker Land e.V.

650

72.907%




313.5




(4)

73.721%




317




(2)

75.465%




324.5




(2)

73.605%




316.5




(4)

73.605%




316.5




(5)

73.860%




1588.00

4.
181

ZINQ Abegglen FH




G \ Westf \ Schwb \ 2010 \ Ampere (NLD) x Carabas \ B: Nagelschmidt-Terwort,Christa \ O: Gestüt Freiberger Hof/Baumgürtel,

GER

Marcus Hermes




ZRFV Appelhülsen e.V.

500

72.674%




312.5




(5)

71.977%




309.5




(6)

74.419%




320




(4)

73.837%




317.5




(3)

73.721%




317




(3)

73.326%




1576.50

5.
76

Destiny OLD




G \ Old \ B \ 2009 \ Desperados x Sandro Hit \ B: Wiggers,Diedrich \ O: Sprehe,Albert

GER

Kristina Bröring-Sprehe




RUFG Falkenberg e.V.

400

73.721%




317




(3)

73.140%




314.5




(3)

73.953%




318




(5)

71.395%




307




(6)

74.302%




319.5




(2)

73.302%




1576.00

6.
169

SPH Dante




G \ Hann AU \ B \ 2008 \ Welfenadel x Dormello \ B: Beatty,Andrea \ O: Knyaginicheva,Elena

GER

Ingrid Klimke




RV St.Georg Münster e.V.

350

71.395%




307




(7)

72.326%




311




(4)

71.628%




308




(6)

73.372%




315.5




(5)

72.442%




311.5




(6)

72.233%




1553.00

7.
103

Foundation 2




S \ Hann \ B \ 2008 \ Fidertanz x De Vito \ B: Pigge,Gerd \ O: Gestüt Schafhof,Paul Schockemöhle Hengsthaltung Gmb

GER

Matthias Alexander Rath




Frankf.Turnierst.Schw.Gelb e.V.

250

71.860%




309




(6)

71.279%




306.5




(8)

69.419%




298.5




(8)

70.116%




301.5




(8)

72.093%




310




(7)

70.953%




1525.50

8.
49

Chilly Jam DSP 2




M \ DSP \ B \ 2010 \ Romanov Blue Hors x Compliment \ B: Drosten,Dr. Andreas \ O: Drosten,Dr. Andreas

GER

Alexandra Sessler




TG LLZ Ansbach e.V.

250

67.907%




292




(9)

71.395%




307




(7)

70.465%




303




(7)

70.233%




302




(7)

70.930%




305




(8)

70.186%




1509.00

9.
197

Stella 1023




M \ DSP \ FKASC \ 2008 \ Silvermoon x Greifswald \ B: Kempkes,Matthias \ O: Kempkes,Matthias

GER

Matthias Kempkes




RA München e.V.

200

68.372%




294




(8)

61.744%




265.5




(10)

67.326%




289.5




(9)

69.767%




300




(9)

68.372%




294




(9)

67.116%




1443.00

10.
77

Devanto




G \ Holst \ Hlb \ 2009 \ De Chirico x Lorentin I \ B: Wesselmann,Holger \ O: Brenske,Dr. Peter

GER

Juliane Burfeind




RV Harsefeld u.Umg.

200

65.814%




283




(10)

68.256%




293.5




(9)

64.302%




276.5




(10)

65.233%




280.5




(10)

65.233%




280.5




(10)

65.767%




1414.00